Now That the World Stopped Caring, the Real #SochiProblems Have Begun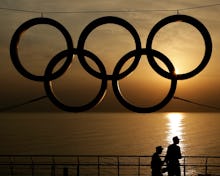 To much of the world, #SochiProblems means strange toilets at the 2014 Olympic Games. But to Russia, Sochi is a real problem — one whose solution will indicate whether Russia can see its people through the massive Olympic project that intruded in a lot of their lives.
While #SochiProblems are a thing of the past for the journalists who have said their goodbyes, Sochi is developing problems of its own that are deeper than just whether or not Russia can prove its games were a success. 
When the Soviet Union crumbled, Russia lost many of its dream vacation spots to Ukraine and Georgia, but it was still left with Sochi. In its hay day, Sochi was the center of Soviet relaxation and nightlife, a city that Stalin transformed into a "premier socialist showcase," replete with mineral baths, relaxation and the beach, wrote Diane P. Koenker for Foreign Affairs. So Putin called upon Sochi as an old symbol of Soviet power and success to introduce Russia back onto the world stage.
Image Credit: Wikimedia Commons. Joseph Stalin with Sergei Kirov in Sochi. 
When the Russian president put a bid in for Sochi to host the games, he was hoping that the feeling of unity and allegiance the Soviets felt towards the state would reappear among today's Russians. But his near-sighted desire to recreate the image of Russia as a strong, autonomous empire might have ultimately gotten in the way of rebuilding a sustainable city. Some research groups and experts have little faith that Sochi could be the dream destination that it once was, let alone that it could take care of its new infrastructure in a way that is both responsible and profitable.
Putin's here-and-now image is evident. Olympics stadiums and hotels weren't created for long-term profits, according to Martin Muller, a professor of geography at the University of Zurich. Muller estimated that the Russian public is paying 90% of the cost of the games, so you'd think they would want the infrastructure to last.
Image Credit: AP. Sochi's Olympic stadium under construction in 2011.
But most of the new stadiums need to be reconstructed if they want to be relevant to locals and tourists. Muller called out lack of quality as a problem in sustaining the new buildings. "[Quality] wasn't demanded by investors, and nobody asked for it," he said. Everyone knows if you buy a fixer-upper, you are asking to spend more in the future. Russian architecture expert Grigory Revzin emphasized that the construction of the new buildings was rushed, recalling the piles of loose electric wires he saw in Fisht Olympic Stadium. "You know what that means?" he said. "It means that they constructed the stadium and then started to decide how to wire up the electricity. And if you think that this only happened with Fisht, then you are mistaken." The burden of deciding how to proceed with these giant architectural projects is on Sochi.
Sochi faces another major obstacle — a lot of debt. Russia, a giant economic superpower, avoided accumulating a huge amount debt from the games, but Sochi didn't. While the $50 billion Russia spent on the Olympics made it the most expensive Olympics in history, that amount actually makes up only 2.5% of Russia's GDP, according to Fitch Ratings. But the Krasnodar Region, where Sochi is located, has seen its indebtedness rise from only 3% of its revenue in 2009 to 47% of its revenue in 2013, and Moody's Investors Service predicts its debt could reach as high as 60%.
For a city whose people are already facing the challenge of utilizing expensive infrastructure for sustainable profits, the debt isn't helping. RT reported that Russia is footing 58% of the region's debt, but that is still not anticipating the added cost of building maintenance and reconstruction.
Still, Putin holds out hope that after the games, Sochi will become a destination for Russians based on a shared nostalgia for Soviet-era strength and power. And he hopes that it will unify them under allegiance to their country, which is now known, at least in some regard, as the successful host of the 2014 Olympic Games.
Image Credit: AP. An old, Soviet style statue stands over Sochi's Black Sea resort.
Sochi is a desirable destination for Russians who work in government and the military, and do not have permission to leave the country. Putin wants the general public, including government personnel, and especially ones with families, to be able to travel to Sochi comfortably and without reminders of the rich oligarchs that pervade post-Soviet society. Along these lines, Putin stressed that he won't be opening a casino in the area because it's a symbol of excessive wealth and isn't open to all ordinary Russians. "[Sochi] is not for a small group of select citizens who can spend hundreds of thousands of dollars in casinos," he said during the first week of the Olympics. "This is, frankly speaking, for the general public."
But it doesn't look like Putin took into account the socioeconomic state of Russia's middle and upper-middle class when he was envisioning Sochi's success with average Russians. Sochi's new hotels cost too much to attract middle-class Russians, who have been traveling to Turkey's beaches for relaxing getaways. Russian elite almost always go abroad for travel, according to the New York Times. Yet, the Olympic site needs five million visitors a year to keep its new hotels full, according to a report by Moody's. Although Sochi gets 4 million tourists per year, the report said hotel occupancy rates will likely fall at least 35% after the games. It is unlikely that new Sochi hotels will continue to profit.
Image Credit: AP. The Bogatyr Hotel, lit up near the Olympic Park. 
I want to believe that the games were constructed with future Russian generations in mind. But the sketchy business of construction and Putin's concern for his reputation are not indicators that Sochi will be an investment for the people who need it most.
What happens to Sochi after the Olympics will be an indicator of whether Russia can see beyond its first battle for international recognition and on to providing a sustainable life for its citizens — citizens who so proudly and graciously supported their country throughout the controversial whirlwind of the games.