A Protester Smuggled a Camera in And Secretly Recorded This Video Of the Supreme Court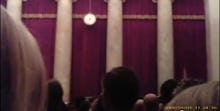 The U.S. Supreme Court is a famously secretive institution, with no photographic or electronic devices permitted inside during the Court's public sessions. All spectators, including journalists, must be screened by magnetometers before entering the courtroom.
But on Wednesday, an advocacy group managed to accomplish a super-spy feat and secretly recorded a protester interrupting an oral argument during a patent case. Watch the clip below, provided by the campaign finance reform organization 99Rise.org:
"Under their arcane rules, no one is allowed to record the proceedings, not even C-SPAN," reads the subtitles on the video, which has been uploaded by an account named "SCOTUSpwned."
After a minute, the camera points at a 99Rise.org member named "Kai": "He's doing something brave. Speaking truth to power," the subtitles read.
"Kai" then stands up to say, "I arise on behalf of the vast majority of the people of the United States who believe that money is not speech. Corporations are not people and that our democracy should not be for sale to the highest bidder." He is quickly taken away afterwards by Supreme Court guards.
The protester has since been identified by the court as Noah Newkirk of Los Angeles. He has been charged with making "a harangue or oration, or utter[ing] loud threatening or abusive language in the Supreme Court Building."
"The court became aware today of the video posted on YouTube," said court spokeswoman Kathy Arberg. "Court officials are in the process of reviewing the video and our courtroom screening procedures." The court has not commented on how the video may have been filmed.
The last time that a disturbance took place during a court session was eight years ago during an abortion-related case.
There have been no photographs of the court in session since the 1930s, when two secret photographs were taken. They had to smuggle their cameras in back then — just imagine what can be done now with Google Glass.