This Is Spotify's Most Streamed Song Ever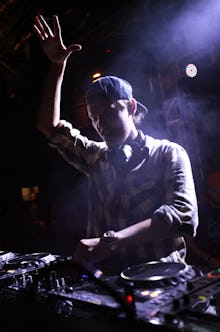 Internet streaming history was made today. A song finally broke the 200 million play mark on Spotify in the race to become the most streamed song ever. It was a neck-and-neck climb between Imagine Dragons' "Radioactive" and Avicii's "Wake Me Up."
"Wake Me Up" has been declared the victor.
Granted, we're happy that Avicii beat out Imagine Dragons. But seriously, people. Avicii? With 20 million songs on Spotify, you couldn't find anything better to listen to?
When this song first came out, most reviewers were awestruck. Some fans were offended by the artists' radical shift in sensibilities from straightforward electro-pop to EDM meets Mumford. Some criticized the move as a money grab aimed at snagging the wallets American audiences who don't have much of a taste for house music: "No one demonstrates the artist-as-cash-machine ethos better, as the mechanical churn of commerce rings loudly on each and every track [of True]," writes Slant reviewer Blue Sullivan. Other critics have called it "synthetic Mumford & Sons" and "wildly misguided."
That's all true. But it's also all meaningless because the song triumphed. Avicii won himself a fierce American following. And audiences, clearly, are still eating it up.