'12 Years a Slave' and 12 Other Films That Should Be Taught in High School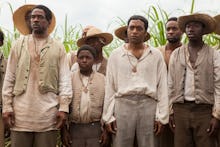 The news: The National School Boards Association (NSBA) recently announced a partnership with New Regency, Penguin Books and the filmmakers that would distribute the Oscar-nominated slavery drama 12 Years a Slave – plus its source book and a study guide – to public schools across America beginning Sept. 2014.
The initiative, spearheaded by TV personality Montel Williams, is intended to "evoke in students a desire to not repeat the evils of the past while inspiring them to dream big of a better and brighter future."
The film's director, Steve McQueen, is enthusiastic about the move: "Since first reading 12 Years a Slave, it has been my dream that this book be taught in schools."
But as far as educational films go, this is far from the only one that might benefit high school classrooms. Here are 12 other historical films – "historical" used very loosely – that hold valuable lessons for today's young people:
The Act of Killing (2013)
Image Credit: Drafthouse Films
One of this year's Best Documentary Feature Oscar nominees, Act of Killing brilliantly executes its chilling premise: What if a group of political mass murderers in Indonesia were asked to recreate their crimes on camera? A horrific testament to the mantra, "History is written by the winners."
Aguirre, the Wrath of God (1972)
Image Credit: CVLT Nation
Werner Herzog's maniacal tale of Spanish conquest in South America is one of cinema's best depictions of colonial pathology.
The Battle of Algiers (1966)
Image Credit: Roger Ebert.com
Incredibly influential documentary-style looks at the guerrilla tactics that led Algerian revolutionaries to victory over their brutal French colonizers.
Brazil (1985)
Image Credit: DVD Beaver
Widely celebrated as a great film about a future dystopia, Terry Gilliam's imaginative classic is more accurately a frightening depiction of today.
Grave of the Fireflies (1988)
Image Credit: Flixist
Heartbreaking animated drama about the aftermath of the U.S. bombings of Hiroshima and Nagasaki. By following a pair of orphaned siblings, the film wrenchingly captures the personal horrors that defined the tragedy.
Into the Abyss (2011)
Image Credit: The Joypad
A sobering documentary account of the human and emotional toll capital punishment takes on all involved — from death row inmates and their families to the executioners.
Lessons of Darkness (1992)
Image Credit: Kino Images
By turning his account of the Persian Gulf War's fire-drenched aftermath into a bizarre science fiction short, Werner Herzog captures the impact of war with uncommon insight.
Malcolm X (1992)
Image Credit: DVD Beaver
Powerful biography of the slain civil rights icon breathes vivid life into America's troubled racial history.
Milk (2008)
Image Credit: Amazon
Excellent film about gay rights activist Harvey Milk, brought to life by an incredible Oscar-winning performance by Sean Penn.
Quest for Fire (1981)
Image Credit: listal
One of cinema's few attempts to depict life among early humans, when we communicated through grunts and gestures and fire was a rare but life saving commodity.
Raise the Red Lantern (1991)
Image Credit: Film-Grab
Visually and dramatically stunning chronicle of polygamy in early 20th century China, capped by one of the most memorably affecting conclusions in recent memory.
Schindler's List (1993)
Image Credit: Blu-Ray
Many have criticized this Holocaust drama for telling this story from the perspective of a German former Nazi sympathizer. Nevertheless, it remains one of the most dramatically rich and aesthetically powerful depictions of the tragedy, one that remains etched in your psyche long after it's over.