8 Spectacular GIFs of World Leaders in Drag Make Controversial Statement About Leadership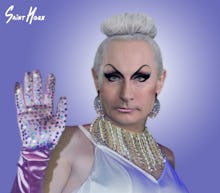 Have you ever wondered what Valdimir Putin would like in drag? Now you've got your chance to find out, thanks to an innovative artist who re-imagines world leaders as drag queens.
From Adolf Hitler to George W. Bush to Kim Jong Un, the starts of the striking "War Drags You Out" series, created by an artist known only as Saint Hoax, challenge notions of leadership, performance and gender.
"I actually came up with the idea after watching a drag show for the first time last May," the artist told PolicyMic. "I was fascinated by drag art. I then linked the concept of faux queens to political and religious leaders. I always perceived leaders as performers, as if they are in their own continuous drag show.
The difference is, according to the artist, that unlike drag performers, leaders don't always know when it's time to take the costume off.
Saint Hoax began working on the show last July, initially painting the drag queens on canvases. The "Poplitical" artist said that the project grew into an expression of frustration world leaders create stylized public personas for themselves, not unlike drag queens.
"I just wanted to extract the idea of getting dressed and becoming someone else for the show and linking it to leaders," the artist said. "I pick men that work so hard on creating some sort of 'public image' and end up neglecting the people they're assigned to lead."
While the series was generally well-received, the portraits of Osama Bin Laden and Egypt's King Abdullah proved highly controversial online.
"I was attacked on social media, and I received multiple threats," the artist noted, adding that far from stopping the series, an Indiegogo campaign has been started to enable more fabulous makeovers in the future.
1. Hitleria Hysteria
2. Queen Abby
3. Madame O'Sane
4. Georgia Buchette
5. Vladdy Pushin'
6. Ossie B'
7. Baricka O'Bisha
8. Kimmy Jungle