In Surprisingly Bold Move, Scotland Offers Asylum to Gay Ugandans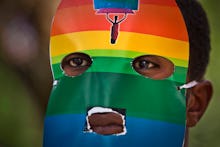 This week, Ugandan President Yoweri Museveni signed into law a brutal anti-gay bill that includes life sentences for engaging gay sex and same-sex marriage. It puts many in the country in a dangerous situation with nowhere to go — until now. In a somewhat surprising move, Scotland has officially declared it will offer asylum to "any Ugandan" persecuted by the new laws.
Humza Yousaf, a Scottish member of parliament and minister for external affairs, wrote a letter to UK Foreign Secretary William Hague urging him to "offer asylum to any Ugandans who feel threatened or persecuted by the legis­lation." He added, "Scotland will play her part in providing asylum for those seeking refuge from this draconian legislation."
"The Anti-Homosexuality Bill in Uganda is a huge step back for equality and I have written to the UK Government asking it to make the strongest possible representations to the Government of Uganda," Yousaf wrote. 
Yousaf's letter comes shortly after Uganda strengthened its already draconian anti-gay laws and Scotland readies itself for the Glasgow 2014 Commonwealth Games this summer, when prominent members of the Ugandan government are expected to arrive in the city. However, despite any participating nation's possible attempts, Scotland will work its hardest to be a safe and welcoming place for all athletes and guests. 
"No one from any part of the Commonwealth who visits Scotland will be under any doubt about our values as a welcoming, open and tolerant society," Yousaf wrote in his letter. He later said, "Ugandan legislation flies in the face of Scotland's values as a welcoming, open and tolerant society and we will continue to monitor the situation closely."
Uganda, which is a member of the Commonwealth of Nations, has already had numerous anti-gay laws for several years, but the new Uganda Anti-Homosexuality Act, 2014 (formerly known as the "Kill the Gays bill") appears to be one of the most severe anti-gay laws in the world. It criminalizes all same-sex relations involving Ugandans both domestic and abroad , as well as the "promotion of homosexuality." Offenders often face life in prison.
But perhaps Yousef's letter isn't going far enough. According to a recent report by the Kaleidoscope Trust, a UK-based charity set up in 2011 to pressure Britain's politicians on LGBT rights in the Commonwealth, same-sex relationships are still criminalized in 41 of the 53 Commonwealth states with penalties including life imprisonment and even death. So while Uganda's recent bill is the newest example of heinous anti-gay legislation, there's still a lot of work to be done, but the Kaleidoscope Trust thinks now is a good time to act, saying, "We have always felt the Games had an important part to play in tackling the scandal of LGBT abuses in the Commonwealth and welcome the Scottish Government taking the bull by the horns."
The UK's Foreign Office has not yet responded to Yousaf's letter, but in a previous statement, Hague said, "We ask the government of Uganda to protect all its citizens and encourage tolerance, equality and respect. We will continue to press the government of Uganda to defend human rights for all, without discrimination on any grounds."