Unable to Trust Local Officials, These West Virginians Decided to Do Something Extraordinary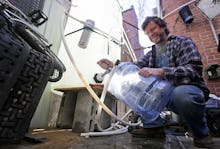 In West Virginia, where the municipal water supply for nine of the state's 52 counties was infamously poisoned with the mining chemical MCHM by Freedom Industries on Jan. 9, citizens are harvesting the rain.
The uniquely libertarian response to the collapsing trust in corporations and government regulators is almost beautiful to watch, if only the circumstances were different.
West Virginians have taken matters into their own hands by washing their bodies, clothes and dishes with droplets that fall from the sky, as well as drinking the water and providing it to their pets and livestock.
"We're doing what we call Charleston CrossFit," said Scott McMillian in an interview with PolicyMic, "carrying a seven gallon jug of water in each arm from our backyards into our homes."
McMillian is a sculptor and makes bicycles for a living. He and his wife reside together in Charleston, the state capital. They began harvesting rain the spring before the contamination was announced.
At the time, McMillian considered it a convenient way to save on his water bill. He collected buckets of rain for his chickens and the plants in his vegetable garden in large barrels. When winter came, he purchased heaters to keep the barrels warm. He never dreamed that he would have to rely on rain to perform basic household tasks.
In consultation with state health and environmental regulators, as well as the Centers for Disease Control (CDC), American Water declared their product safe on Jan. 14, provided you are not pregnant or under the age of three. However, trace levels of MCHM have remained in the water supply and symptoms of airborne and oral exposure including dizziness, headaches, rashes and burning eyes have continued to be reported.
On Jan. 24, it was announced that a previously undisclosed mixture of propylene glycol phenyl and dipropylene glycol had also leaked, though in lesser amounts. Regardless, Letitia Tierney, head of the state's health department, testified at a congressional hearing on Feb. 2 that the water is "usable."
"They're in a pretty big hurry to get us to except this as a new lower standard and not worry about it much," McMillian said, describing the stance of West Virginia's regulators.
As an alternative to drinking water that could potentially be poisonous, he and his neighbors have started a rain harvesting club called the Charleston Rain Catchers, sharing information on how to gather, filter and conservatively use what the heavens provide.
It can be cumbersome and costly, McMillian admitted. After the contamination, he and his wife "bit the bullet" and ordered "one of those bulky, stainless-steal water filtration systems." There are ways, though, to design your own hdevices for those so inclined.
For people in the Charleston-area who aren't strong enough to lug heavy jugs of rain or who can't afford to purchase water, the local charity WV Clean Water Hub is handing out free bottled water and making home deliveries to the sick and elderly.
No studies have ever been conducted on the short or long term effects of any of the toxins in the water supply on humans. The CDC only declared the levels MCHM in the water acceptable for consumption by relying on studies that the chemical's manufacturer conducted on animals. Nor is it certain how MCHM and other compounds that leaked from Freedom Industries will interact with preexisting chemicals in the environment.
For McMillian and many other West Virginians, the spill is indicative of a much larger, systemic problem: coal's dominance of state politics.
West Virginia produced 120 million tons of coal in 2011, which is the second largest amount in the United States. Rep. David McKinley (R-W. Va.) took $48,000 in coal industry donations in 2013 and Rep. Shelley Moore Capito (R-W. Va.) hauled in $165,275, records show. Both are among the top recipients of coal industry money in Congress. The state's Democratic governor Earl Ray Tomblin has taken almost half a million dollars from the coal industry.
"Our elected leaders are not paid by us," he said. "The money that's here that can donate to politicians is pretty much only from the mining industry. We have absolutely no say in what they do. We're paying the price for the power that's generated for the rest of the country through coal. We're doing the best we can with the hand we've been dealt but it is going to take a national effort to change this around."
Image Credit (all): Charleston Rain Catchers