Lupita Nyong'o's Oscar Dress is Absolutely Stunning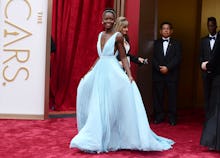 Lupita Nyong'o has been color blocking all award season and she looks fabulous tonight once again, this time in a custom Prada dress. As she said in her Ryan Seacrest red carpet interview, "It's a blue that reminds me of Nairobi." 
Nyong'o is also sporting exquisite jewelry and a headband that will surely launch a thousand editorial spreads. 
Nyong'o's color blocking has also sparked quite a few artist interpretations including the below that Nyong'o posted on her Instagram: 
What do you think of Nyong'o's latest shade? Nairobi blue.