Where to Watch the Oscars Online 2014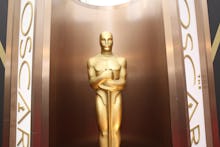 The stars are walking the red carpet and the Oscar ceremony is just minutes away! If you're still not sure where to watch, don't freak. These Oscars are the first in history to be fully streamed online. Here's what you need to know:
Where to stream: WATCHABC, or the WATCHABC app on your phone.
When it starts: Now! The ceremony itself starts at 8 p.m. EST. Red carpet coverage is on as we speak, and over at E! Online as well.