Cate Blanchett's Oscar Dress is Gorgeous and Right On Trend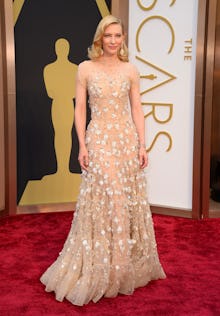 Cate Blanchett—a big favorite to take home the Best Actress Oscar for Blue Jasmine—looks gorgeous in her dress. Her elegant, sequined Giorgio Armani dress is being praised across the red carpet.
It's also in keeping with tonight's emerging fashion trend among the ladies, which appears to be: go nude. Jessica Biel, Sally Hawkins and Julie Delpy were also spotted on the red carpet in nude numbers.
Talking to Ryan Seacrest, Blanchett said of her dress, "It's heavy but I love it."