Watch Ellen Poke Fun at Academy Racism in Her Opening Monologue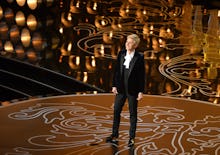 Ellen Degeneres opened the 86th Academy Awards with a bang — well, kinda.
The beloved actress-cum-talk show host walked out in an awesome sparkly velvet suit jacket, and proceeded to poke light-hearted fun at everyone from June Squibb to J. Law ("If you win tonight, I think we should bring you the Oscar," she said in reference to Lawrence's highly publicized trips).
Degeneres is a crowd-pleaser, and she kept things pretty tame in general compared with last year's opening (which included some supremely tasteless bits by host Seth MacFarlane — a standout was the objectification-fest song "I Saw Your Boobs"). The mood tonight was definitely safer than that in 2013, but also appropriate given the tenor of some of tonight's uber-serious nominated films.
Best moment: At the close of the speech, Degeneres laid out two possibilities for the evening. One: that 12 Years a Slave would win Best Picture. And two: "You're all racist. Now welcome our first white presenter, Anne Hathaway!"
This is Denegeres' second time hosting. She first hosted seven years ago in 2007.