Oscar Winners 2014: Jared Leto Wins Best Supporting Actor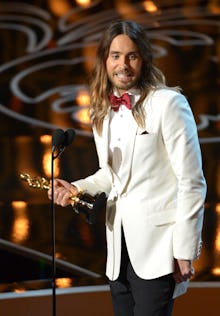 Jared Leto has won the Best Supporting Actor Oscar for his portrayal of a trans woman dying of AIDS in Dallas Buyers Club. 
This isn't a huge shocker—Leto was a heavy favorite coming into tonight after having won the Best Supporting Actor Golden Globe. 
The former 30 Seconds to Mars frontman gave an interesting acceptance speech, to say the least, thanking his mom and the Academy, and mentioning political crises in Ukraine and Venezuela. He also mentioned AIDS victims and survivors, which he did not do at the Golden Globes.