Jared Leto Blew Everyone Away With His Incredible Acceptance Speech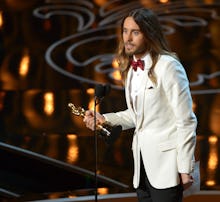 It always seems a little anti-climactic to start the Oscars ceremony with the award for Best Supporting Actor. It's almost like the Academy is gently reminding these performers that they were important — just not that important. But when Jared Leto won for his incredible performance in Dallas Buyers Club tonight, he, at least, seemed to understand exactly how important it was.
At his acceptance speech for the award at the Golden Globes, Leto was crass, biased and maybe a little drunk. At the end of the speech, as if realizing his gaffe, he said, "And to the Rayons of the world. Uh. Thanks for the inspiration." But the empty gesture couldn't save him from the Internet's vitriol.
Tonight, Leto seemed like a different man. He told the story of how his mother, a high school dropout, raised him and his brother, Shannon, on her own. He called Shannon his best friend and greatest collaborator, and mentioned their band, Thirty Seconds to Mars. More importantly, he expressed his sympathy for those caught in turmoil in Venezuela and Ukraine, and acknowledged those who inspired Dallas Buyers Club:
"This is for the 36 million people who lost the battle to AIDS, and to those of you out there who have ever felt injustice because of who are you or who you love. Tonight, I stand here in front of the world with you and for you."