Pharrell Dancing With Celebrities to 'Happy' is the Most Endearing Thing Ever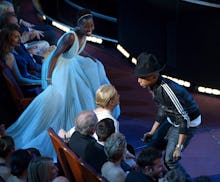 We're barely an hour into the Oscars telecast, but there've been plenty of good moments so far. One of the best — and most GIF–able — was this moment: 
That's Pharrell Williams performing "Happy," and seriously getting down with the A–listers seated in the first row at the Oscars. In case you need some IDs, those are: 12 Years a Slave's Lupita Nyong'o, August: Osage County's Meryl Streep, and American Hustle's Amy Adams. Get down, everyone.