Here Is the Most Incredible Selfie Ever Taken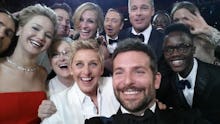 Updated March 2, 2014
It seems Ellen DeGeneres has figured out one of the principle rules of making something go viral: Because Ellen says so. 
So, when she said that she was going to make the most retweeted tweet ever, Hollywood (and Twitter) obliged. And she succeeded. 
It seemed like a pretty off-the-cuff thing, but if you look closer, you'll notice that this is perhaps the most perfect piece of Internet media ever. Jennifer Lawrence is grinning like the goof ball she is, Ellen DeGeneres is always great, Bradley Cooper is looking at the camera with childlike wonder, Meryl Streep looks pretty classy and Frank Underwood is in the background — smiling, but still, somehow, terrifying. 
She pulled it off pretty quickly. It currently has more than a million retweets since Ellen tweeted it (she has surpassed the Obama hugging picture, which has 778,00 retweets). And this is before she ordered pizza for the entire front row of the audience, making especially sure that the pregnant stars got a slice. She cannot be stopped.