Watch Lupita Nyong'o Give the Most Empowering Speech of the Oscars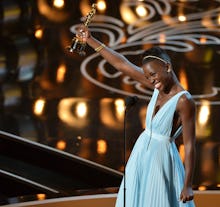 We're calling it. Lupita Nyong'o just gave the most incredible and inspiring acceptance speech of the night. 
An emotional Nyong'o took to the stage after winning the Academy Award for Best Supporting Actress for her role as Patsey in 12 Years a Slave (her first feature film, no less). Nyong'o opened her speech by acknowledging the gravitas of the film for which she won:
"It doesn't escape me for one moment that so much joy in my life is thanks to so much pain in someone else's, and so I want to salute the spirit of Patsey for her guidance ..."
She went on to thank those who worked on the film (including director Steve McQueen and co-star Chiwetel Ejiofor), as well as her friends and family. Adorably, she also thanked the Yale School of Drama (she graduated less than two years ago, in 2012).
Nyong'o, who celebrated her 31st birthday yesterday, was born in Mexico and raised in Kenya. She is only the sixth black actress in history to have won this award. (Halle Berry remains the only African American to have ever won the Academy Award for Best Actress. Womp womp.)
Nyong'o is incredibly talented, and anyone who's seen 12 Years a Slave knows that her win was well-deserved. The importance of supporting people of color in the entertainment industry cannot be overstated, either:
Hopefully Nyong'o's win will help inspire the next generation of actors and actresses to believe, as she put it so eloquently in her speech, that "no matter where you're from, your dreams are valid."
BRB, crying.