Cate Blanchett Wins Best Actress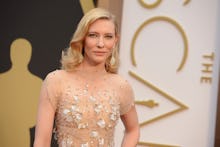 No surprise, but still a joyful moment at the Academy Awards, Cate Blanchett took home the Oscar for Best Actress for her role in Blue Jasmine. The actress was the favorite to win the category and win she did. Blanchett had gone strong into awards season, but there was concern that the Woody Allen scandal would cast a shadow over her nomination and potential win. The concerns were clearly unfounded. 
Blanchett previously won for her role in the film Elizabeth.