Oscar Winners 2014: "12 Years A Slave" Wins Best Picture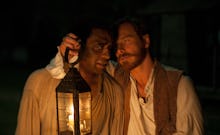 12 Years A Slave has won the top prize at this year's Oscars: Best Picture. The hugely acclaimed drama tells the story of Solomon Northup, a free black man sold into slavery in the antebellum South.
In a best picture race that many declared to be "wide open"—potential contenders included Gravity and American Hustle—it became clearer over the course of the night that the Academy would crown 12 Years with its highest honor. (We also predicted it!)
Well, that wraps up tonight's ceremony. Thanks for following along with us!