The Actual Definitive Map of America's Favorite Bands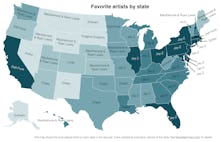 You've probably already seen the viral map of each state's favorite musical artist. But — as is common on the Internet — this one infographic does not tell the whole story.
The original map, produced by Paul Lamere, the director of developer platform at famed music company The Echo Nest, shows the most distinctive band from each state. This is a good measure of a state's most unique favorite band, but not their actual favorite band. In fact, we aren't quite as divided as we thought.
Now, Lamere's back at it again to set the record straight. And he's given us this map of the actual most popular bands from each state.
Image Credit: Paul Lamere
With this map, we learn the definitive truth: Jay-Z runs this town — and also half the country with it. 
According to the new map, Jay-Z's popularity isn't an Empire State of Mind so much as it is a national regime. Lamere made this clear in a modified version of the popularity map, showing regional blocks of taste:
Image Credit: Paul Lamere
Home base seems to be an important factor in popularity: While Jay's got the East, Seattle-based Macklemore takes his home state and most of the Northwest. No word yet on whether Macklemore's apologized to Jay-Z for that.
Notably, the U.S. is very much in love with hip-hop. Even Eminem is still popular, inexplicably, in North Dakota, West Virginia and Alaska.
Even stranger, Drake — more or less the opposite of a Southern rapper (see: 2 Chainz) — owns the South. Drake's never been shy to declare his love for the American South, though, having spent time with his father in Memphis as a child. And of course he's got Texas — all his exes live there, after all.
Interestingly, the only woman featured on this list is Lorde (in Colorado). For all the talk of empowering female pop stars, this stat speaks coldly to a larger gender gap in the music industry. But as for the rest of the non-Jay-Z, Macklemore and Drake country, top 40 hits like Daft Punk and Imagine Dragons reign supreme ... and somehow British band alt-J took over Vermont. If you've got any theories on that one, let us know.