The Biggest City in America Is About to Do Something Incredible for Its Kids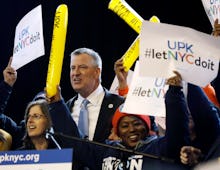 While New Yorkers have grappled with record-breaking cold this winter, the universal preschool debate consuming the state's politicians has been a scorcher. 
As the New York Times recently reported, "Preschool is having its moment, as a favored cause for politicians and interest groups." New York City Mayor Bill de Blasio has likened the fight for universal pre-K to the Civil Rights Movement, and Gov. Andrew Cuomo has rolled out a plan for a statewide program. However, the two elected officials have long been at odds over how to pay for it. But now, there's a potential breakthrough.
Reports suggest state lawmakers in Albany are getting close to approving the money de Blasio needs to make universal pre-K and additional after school programs available to every New York City kid.
It would be a major win. Teachers and education experts believe it would be a significant step forward in addressing student readiness, achievement and inequality. 
"I certainly believe that pre-K options are incredibly important for our students," Josie Carbone, the principal of Girls Prep Bronx Elementary School, told PolicyMic. It "means that more of our students will come in ... ready to socialize, engage and meet expectations."
Under the current system, many kids and their families are left without this early advantage. According to the Associated Press, at least 30,000 4-year-olds in high-need districts in New York state are without access to pre-K. And while 449 of New York's 700 school districts do offer it, serving 100,000 4-year-olds, the majority of these programs are half-day. Expanding universal pre-K would address this gap.
Credit: National Institute For Early Education Research
At Carbone's single-sex charter school, which serves grades kindergarten through fifth grade, 100% of students identify as black, Hispanic or other (with no students identifying as Caucasian) and 80% qualify for free or reduced lunch. She is far from the only educator at an innovative program supporting universal pre-K. 
Aileen Hefferren, the chief executive of Prep for Prep, told PolicyMic that "more of the research shows that early interventions like universal pre-K programs make a real difference in student performance."
Prep for Prep is a nonprofit organization that identifies high-achieving students of color in New York City's public school system and prepares them to attend day and boarding schools. Today the program boasts 730 students in independent schools, 750 program alumni enrolled in college and 2,400 college graduates.
"Gaining that edge early is especially critical for lower income students, who so often arrive at kindergarten already behind their classmates," Hefferren stressed. "Like in any race, starting position is everything and so we applaud efforts to address this gap."
In recent years, education research has evolved to show that closing the inequality gap must begin in a child's earliest years. There was once a great emphasis on middle school education, which then morphed into a focus on kindergarten. Longitudinal studies on early education interventions, like that on the Perry Preschool Program, point to the possible effects.
Credit: High/Scope Education Research Foundation
Today this attention in early interventions has shifted to preschool and earlier. Harlem Children's Zone, known for breaking new ground in the education sphere, offers a "Baby College" for expectant parents and caregivers. This program underscores the importance of reading to the young and provides parents with skills to ensure that children "enter school ready to learn." It also offers pre-kindergarten for its students, who are drawn from a 100-block radius in central Harlem.
"Science shows that the first years of a child's life are incredibly important for brain development, and set the table for later learning," Geoffrey Canada, the president of the Harlem Children's Zone and a nationally-recognized education reformer, told PolicyMic. "That is why we work with parents from birth, and why we make an investment in universal pre-kindergarten for our students."
Carbone also recognized that it is harder to close this gap in a child's later years of development.
"Our organization really believes that even though we're committed to how to better support struggling students in older grades, you need to start early with the end in mind, the end being making it to and through college and to a career," she said.
It's rare to find an issue that has the backing of educators and politicians in both red and blue states. But Democrats and Republicans have embraced universal pre-K, emphasizing its potential to transform education and narrow this pervasive inequality gap. Georgia and Oklahoma, two conservative strongholds, were the first states in the union to offer universal pre-K. Should New York give formal approval to the plan, it would be the fourth state to offer the program to all of its 4-year-olds.  
Tom Bretz, a Manhattan resident with five children ages 8 to 28, said that his youngest attended a public preschool, an experience that proved to be necessary in preparing her for kindergarten.
"The program was really instrumental in getting her ready for some of the academic skills and socializing that she needed to have a good experience starting out with school," Bretz said. "All kids should have an opportunity, no matter what their economic background or family background or economic status is."
New York City is on the verge of taking a major step in that direction.