See Leonardo DiCaprio's Scene-By-Scene Reaction After He Didn't Win the Oscar. Again.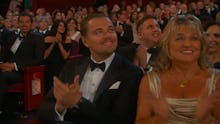 The news: Alfred Hitchcock. Peter O'Toole. Richard Burton. Leonardo DiCaprio?
Some Hollywood legends live their entire lives without winning an Oscar. At age 39, DiCaprio is far from joining that company, but with each perceived "snub" — last night marked the fourth time he was nominated and lost — the conversation intensifies.
This time was perhaps the most excruciating to watch. Maybe it was because he thought there was a chance ...
After all, the role of Jordan Belfort in The Wolf of Wall Street was arguably his juiciest to date: "They have to give it to me this time, don't they?"
Then came the moment of truth ...
The Oscar for Best Actor goes to Matthew McConaughey for Dallas Buyers Club ...
"NOOOOOOOOOO!!!"
"Bring it in, Matthew ..."
"That's right, briiiiiinnnggg it in ..."
"Whatever. I'll be back next year."
Image Credit: BuzzFeed
Indeed. The McConaissance proved to be an unstoppable juggernaut, and McConaughey's Oscar was richly deserved. But don't tell that to Twitter: #TeamLeo rolled deep this year, as it always does.
This indignation is warranted. It's tough for fans — not to mention DiCaprio himself — to see such hard work repeatedly get the Oscar shaft. But Leo's track record of acclaimed performances over the past decade is nearly unparalleled. The Aviator (2004), Blood Diamond (2006), The Departed (2006) and others. At his young age, it's just a matter of time before he takes home that coveted statuette.
Which brings to mind another Hollywood legend:
Image Credit: Fanpop
Sorry ...
Image Credit: Heavy
Recognize him now? Al Pacino had perhaps the greatest run of any actor in history during the 1970s: Panic in Needle Park (1971), The Godfather (1972), Serpico (1973), The Godfather Part II (1974), Dog Day Afternoon (1975), and … And Justice for All (1979). Did he win an Oscar for any of those? Nope.
His lone Best Actor award came in 1992 for Scent of a Woman, about 20 years later.
So although things are getting increasingly frustrating for DiCaprio, it's a safe bet that his day is not far off. Let's just hope he doesn't have to wait as long as Pacino did.