Russian Leaders Call Reports of Imminent Military Strike in Ukraine "Total Nonsense"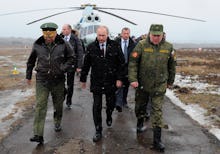 Update at 1 p.m. ET: "Total Nonsense," Russian Official Reportedly Says:
Any claims that the Russian military has warned Ukraine to surrender in Crimea or face an assault on Tuesday are "total nonsense," a Russian Defense Ministry official says, according to The Voice of Russia and state-run media Interfax, which previously reported the story.
Our original post: At 10 p.m., Russia Will Deliver An All-Out "Military Storm" Against Ukraine
According to Russia's state-run news agency Interfax, Russia has given Ukrainian military forces in the region of Crimea a Tuesday, 10 p.m. EST deadline to clear out and surrender or face military action.
The agency, which claimed a Ukrainian Defense Ministry source, said that Black Sea Fleet commander Aleksandr Vitko said in a statement: "If they do not surrender before 5 a.m. (3 a.m. U.K. time) tomorrow, a real assault will be started against units and divisions of the armed forces across Crimea."
Ukrainian Defense Ministry spokesmen confirmed that Russian military units had been approaching Ukrainian military bases in Crimea and threatening "harsh action" if units fail to surrender or leave the region. A Security Service spokesman said that they were not aware of any ultimatum, but it has since been confirmed by the military through official channels:
"The ultimatum is to recognise the new Crimean authorities, lay down our weapons and leave, or be ready for an assault," regional Ukrainian defence ministry spokesman Vladyslav Seleznyov told AFP.
Russia is currently denying it issued any ultimatum, though given the world's unease with its military occupation of a former Soviet Republic, it has every reason to publicly dismiss any possible upcoming military actions:
"We are used to daily accusations about using force against our Ukrainian colleagues," said a representative of the Russian fleet. "Efforts to make us clash won't work."
The Ukrainian defenders face a terrible dilemma. According to another defense spokesman, "All of the bases in Crimea are still under Ukrainian control. But they are surrounded," thus leaving the surrounded forces with the option of surrender or possible destruction. At least one Ukrainian military official has decided that switching allegiances was the best option; after troops surrounded his building and cut off electricity, navy chief Denys Berezovsky said he would serve the new Crimean authorities.
Russia's brazen moves in Crimea may indicate a willingness to flex its muscle in other former Soviet republics, making much of eastern Europe very nervous. Lithuanian President Dalia Grybauskaite expressed fears that Russia would ultimately demand Crimea's annexation. Senior Atlantic Council fellow Erik Brattberg said that country and its neighbors "are certainly very worried that what is happening to Ukraine today could happen to them tomorrow," noting the large number of ethnic Russians in countries like Estonia and Latvia.
"I am asking all the world, personally every world leader, to use all the possibilities in order to avoid Ukraine losing Crimea," said former Prime Minister Yulia Tymoshenko in an interview with CNN's Christiane Amanpour. U.S. officials estimate 6,000 Russian ground and naval forces in the region in "complete operational control of the Crimean Peninsula."
"There is no question that they are in an occupation position — flying in reinforcements and settling in," a senior official claimed.