Famous Actors Joined Jimmy Kimmel and Made These Hilarious Oscar Parody Videos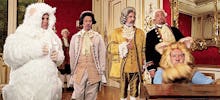 If you've ever wanted to see your favorite Hollywood actors use their award-winning talents for YouTube parodies, you're in luck.
Keeping up his Oscar night tradition of creating fake trailers for Oscar bait films, on Sunday night comedian Jimmy Kimmel dropped four videos featuring casts of some hilarious and famous friends.
The first video, titled "Bitman Begins," is a parody of director Christopher Nolan's dark Batman trilogy. Introduced by Martin Scorsese, it features the Hemsworth brothers, Meryl Streep and Tom Hanks in a tale of familial revenge, later revealed to be a twisted adaptation of a legendary YouTube hit:
The second video, introduced by Morgan Freeman, features Queen Latifah as "Sweet Brown: Ain't Nobody Got Time For That." The fake movie follows her Forrest Gump-like journey to inspire some of the biggest names in history: Barack Obama (Captain Phillips' Barkhad Abdi in prosthetic ears), Steve Jobs (Girls' Adam Driver) and JFK and Ronald Reagan (in archival footage). In true Kimmel tradition, it also includes a tragically short Matt Damon cameo:
The third features the most ridiculous cast by far, starring some of the greatest thespians of our age: Kevin Spacey, Christoph Waltz, Sir Ben Kingsley, Gary Oldman and Mandy Patinkin. Introduced by Anjelica Huston, "Ameowadeus" — a parody of the 1984 Milos Forman film — pits Spacey and Waltz against each other as bitter musical rivals, "Keyboard Cat" and "Hamster on a Piano." Kimmel himself has a memorable cameo as "Dramatic Chipmunk":
And really, you haven't lived until you've seen Spacey's keyboard performance:
Image credit: Tumblr
The fourth and final video is introduced by Andy Garcia as "David After Dentist: Double Rainbow Oh My God in 3-D." The fake Baz Luhrmann trailer perfectly marries the director's signature psychedelic style with a Novocaine high. The "3-D musical hallucination" stars Joseph Gordon-Levitt as the titular David, Catherine Zeta-Jones as the Tooth Fairy, Samuel L. Jackson as an evil dentist and a hippie Seth Rogen as the Double Rainbow Guy.
If these aren't Oscar-worthy performances, we don't know what is.