Detroit's Startups Are Building a Lot More Than Companies in Motor City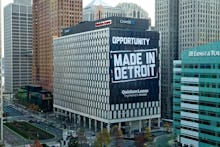 Detroit is one of those American cities everyone's rooting for, but is afraid to invest in. This unsettling feeling didn't get any better when the city became the largest in the country to declare bankruptcy in December 2013 due to its $1.8 billion debt.
But some people see a glimmer of hope that most don't and Detroit has emerged as a new haven for entrepreneurs in the city. Businessman Dan Gilbert is the leading force behind Detroit's entrepreneurship spirit by pushing for progress and pouring billions of his own money into restoring the city. Like Gilbert, many view Detroit as a symbol of rebirth. Even as the government struggled financially, the private sector has been mobilizing rapidly to support local businesses in what could be called a startup revolutionary recovery.
Michigan Governor Rick Snyder acknowledged these tremendous private efforts in a conversation with Techonomy last fall saying, "The comeback in Detroit started several years ago, outside of municipal government, outside of the public sector … the comeback is going on in spite of the way government was operating."
Entrepreneurs in Detroit operate with fierce pride for their city, a commitment that has translated to a united and powerful community. What makes Detroit's entrepreneurs different than those in any other places is that they're focused on more than growing their business. They're also focused on rebuilding their city — whether it's literal or through an entrepreneurship spirit so strong that it attracts and encourages other entrepreneurs.
The startups below prove this to be true:
1. Stik
A transplant from San Francisco, Stik.com's geographical trajectory is representative of the inland migration that more and more companies are making from the coasts, foregoing some regional cache in exchange for extensive resources, lower costs and a burgeoning entrepreneurial energy
The referral company (think Yelp, but for service professionals like Farmers Insurance) was born in Silicon Valley, but founders Jay Gierak and Nathan Labenz, Detroit natives and Harvard classmates, were compelled to relocate. This choice stemmed from a desire to build a company that lasts, with talent that sticks around. 
"We thought there was a culture in Detroit where we could build a long-term company that was going to win," co-founder Gierak said in a TechCrunch article.
2. Detroit Labs
An article in FastCompany called Detroit Labs "a testament to the city's resilient spirit of invention." The labs are a bastion of "thinkers, doers and makers" who build intuitive and beautiful apps for companies and organizations.
The tech hub, located in a converted theater downtown, is responsible for producing products such as the main ordering app for Domino's Pizza (responsible for $150 million in annual revenue), DTE Energy, Quicken Loans and General Motors. 
Founders Paul Glomski and Dan Ward attribute much of this rapid success to the city of Detroit itself, which they assert has a more communal and less competitive vibe than a place like San Francisco. 
"We make real revenue; we're profitable. How many startups in San Francisco or New York could you say that of in their first year?" Giomski said in a 2012 interview.
3. Benzinga/Marketfy
Founder Jason Raznick cites the "untapped potential" and "support" the community provides as a few of his key reasons for starting his media company in Michigan instead of New York.
"There is so much untapped potential here it is unbelievable— not to mention that Michigan is my home," said Raznick. "There is also so much support here for growing companies, and I am so grateful to the members of the local community for helping Benzinga grow."
"As for being outside a major city — the positives are things like lower expenses and rent, but more importantly it provides an incentive for employees and me to perform beyond any other company in our industry, so that no one can claim 'Aw, well they're just from a little town.' "
Benzinga is a financial news company, founded in 2010, which is now one of the go-to content providers for the Windows 8 Bing Finance Section along with features in other publications including Forbes.com and Ameritrade.com. It offers what Raznick calls "news you use," or information that helps to inform and inspire investment ideas.
The company has expanded from two people to over 30 within the past few years. It has also gained clients and exposure, raking in more than $3 million in annual revenue.
4. Crowdrise
According to documentary filmmaker and site user Bryan Mooser, Crowdrise chose to settle down in Detroit to be part of the "vibrant city" and play a role in its "recovery."
Like Kickstarter, Crowdrise enables companies, individuals and causes to post specific initiatives that they are looking to fund, such as gaining sponsors for a marathon. This provides a platform for others in Detroit to share what they're doing and seek support, bringing the community even closer together.
Founded by actor Edward Norton in 2010 along with a broader team, the site has featured partnerships with celebrities including Seth Rogen and Kristen Bell.
It's also been honored by Mashable and Barron's as one of the top web platforms for charitable contributions and aims to make philanthropy an engaging and enduring process.
5. GreenLancer Energy
GreenLancer is establishing Detroit as an ecofriendly global powerhouse, winning the highest award for a startup at a global solar energy show in late 2013.
Inspired by the freelancing communities present in other industries, GreenLancer helps to link freelance renewable energy engineers with companies that need their expertise and guidance. 
In doing so, GreenLancer has helped to connect clean energy talent with major national companies and government organizations including the U.S. Armed Forces, Occidental Oil, General Motors and the U.S Department of Defense.
In an interview with Forbes, co-founder Patrick McCabe said that there's currently a lack of clean-tech resources in the city and his company is changing that by linking tools and resources for clean-tech projects. Inevitably, GreenLancer will be the foundation for growing a string of other clean-tech businesses.
6. UpTo
Industry leaders and experts are vital for the success of a business and community overall. Greg Schwartz, former director of digital business for the Warner Music Group in New York City, is one such leader. He is now championing the startup movement in Detroit as the head of his own mobile app business, UpTo. 
After coming up with the idea for his company in New York, Schwartz decided to move to Detroit to launch his company. UpTo is a social application that focuses on the "future tense," meaning it allows users to see what their friends are doing ahead of time. This enables people to be a part of the outings and events, pulling the community in Detroit even closer together.
The app also works as a marketing tool for businesses allowing customers to communicate directly about goings-on within companies they support. 
UpTo is a key mobile player leading and paving the way for more mobile companies and experts to set up shop in Detroit.
7. iRule
One of the key problems that contributed to Detroit's financial instability was an economic dependence on the auto industry. Today, one of the city's up-and-coming startups is demonstrating how talent in the automotive world is relevant across industries and indicative of real versatility.
iRule was founded by two former members of the car business, Itai Ben-Gal and Victor Nemirovsky, an engineer and programmer, respectively, who created a universal remote control service in 2009.
The company recently won the Detroit Google Demo Day, meaning it beat out six others for the opportunity to pitch its business to Google execs later this year.
The service is now used in thousands of homes and companies across America including CNN's headquarters in New York City and is able to pair with an array of devices including the Nest Home Thermostat.
The founders raised $1 million in Series B funding in 2013 and are looking to expand. "We're looking to grow the team aggressively — we're looking for everyone from developers to sales guys," said Ben-Gal.
8. Are You a Human
Are You a Human is a prime example of local talent who were encouraged by the startup scene in the city — and decided to stay. The company was started by a group of University of Michigan business school graduates.
"There's a spark of innovation here, and people like to get their hands dirty and get things done," said CEO Tyler Paxton. "I'm here for the long haul."
Max Nussenbaum, a fixer at Are You A Human, agrees: "Detroit craves people," he said in the Huffington Post. "And because of that, you can matter the minute you move here."
"When you get to Detroit, the city screams at you to do something. It doesn't matter what — just do something."
Much like its name suggests, this startup is focused on figuring out whether or not people on the Internet are human beings and not bots programmed to do a person's bidding.
9. Backstitch
Backstitch calls itself a "personal website" that enable users to weave their favorite websites with recommendations and posts from friends to curate their own online content.
Since its business model is so focused on community, Backstitch is also a part of the tightly-knit Detroit startup community. The city's close community greatly impacts Backstitch's business and, in turn, the startup also gives back to its community.
"We get together for everything from brainstorming ideas to holiday potlucks," said CEO Jordan Warzecha. "This has led to introductions that have turned into huge opportunities and has also allowed us to help other startups with things, such as prospective hires."
The company's CMO Dave Anderson also co-founded the co-working and collaboration space Bamboo.