"How Not to Get Raped" Parody Exposes Absurd Advice Given to Young Women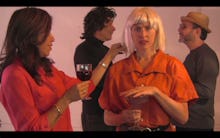 Rape would be so easily avoidable if women ditched the short skirts, stayed away from poorly-lit areas and always wore running shoes for a hasty getaway, right? Wrong.
A new video from the artist Cat Del Buono parodies the kind of generalized, contradictory "How Not To Get Raped" advice often given out by colleges and women's magazines. The parody video is part of Del Buono's campaign skewering the way women's reproductive rights are discussed.
What makes the video powerful is that much of the advice doesn't sound that shocking — it's the regular rhetoric women hear again and again. Make sure someone knows where you are if you're going out alone. Avoid isolated areas. Don't let anyone buy you a drink. Don't get drunk. 
But when Del Buono puts it all together in a scenario staged by a group of actors, the advice sounds ridiculous — not only for its excessive caution, but for the limits it places on women's freedom. Other gems include wearing clothing that's tricky to remove, like overalls with a belt; never going to the bathroom, where attacks are more likely; driving your car into a lamppost if there's a rapist with you; making eye contact with a potential attacker; not making eye contact with a potential attacker. 
Rape isn't the punchline here — indeed, advocacy group Rape, Abuse and Incest Advocacy National Network (RAINN) has calculated that approximately every two minutes, someone in America is sexually assaulted. Rather, Del Buono's point is to draw attention to the fact that the onus of rape still falls on the victim. Instead of telling women how to avoid rape, we need to change how rape is perceived and discussed in our society. We need to teach people not to rape, rather than to avoid being raped. 
It's worth checking out Del Buono's other videos, too. In one, she pulls together clips of male politicians talking about women's reproductive rights after rape, including classic comments such as "making the best out of a bad situation" and Todd Akin's infamous misunderstanding that "the female body has ways to try to shut that whole [conception] thing down" if it's a "legitimate rape." Interspersed with clips of women getting raped, this video is a little more shocking, but both make the same point: Come on, people.