Former Miss Kentucky Comes Out as Queer in Response to Anti-Gay Rhetoric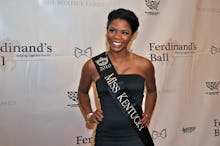 "I am queer."
With those three words, former Miss Kentucky winner Djuan Keila Trent came out to her fans in a blog post last month, telling friends, family and fans that she had decided to come out after months of internal struggle.
Growing up a beauty queen, Trent noted that walking in the spotlight was common for her. But while she may be accustomed to wearing her talent on her sleeve, she's never been comfortable exposing her sexual orientation.
Until now, that is. In a moving torrent of emotion, Trent's post bared her soul on the Internet:
I could write about what it was like to come out to my mom for the third and final time at the age of 26 (the first time was when I was in the 4th grade and the second time was in college). I could write about the years I spent praying to a God whom I wanted so badly to serve with all of my heart, but couldn't understand why this God made me "wrong." I could write about all the times that people have asked me if I have a boyfriend and I've purposely chosen to just say "no" with no further explanation. 
Trent, who finished in the top 10 of the 2011 Miss America pageant, said that she had been inspired in part by Ellen Page's recent coming out speech. But an equally important factor was District Judge John G. Heyburn II's ruling ordering the Kentucky to recognize same-sex marriages legally performed outside the state. (Kentucky is appealing the ruling.)
Listening to her state's residents debate the decision, Trent came to the conclusion that the time had come for her to to stand openly in favor of LGBT equality in her community.
"What has prompted my writing today has been my questioning people's constant assumption that a) I am hetero and b) I concur with their views and opinion," Trent wrote on her blog. "Sometimes, I forget to put the "QUEER" stamp on my forehead on my way out the door in the mornings."
Notoriously straight-laced, the Miss America pageant is not an event known for embracing non-traditional aspects of gender performance. Last year, Miss Kansas Theresa Vail made headlines for daring to be the first Miss America contestant to bear visible tattoos. 
So while Trent is undoubtedly not the first LGBT beauty queen, her very public proclamation is nevertheless an important first step for future contestants. 
Thanking those who have come out before her, Trent said these examples helped give her the courage to "change my 'they' to 'we,' 'them' to 'us,' and 'their' to 'our.'"
"You have given me the courage to speak up and speak out when I forget my 'QUEER' stamp in the mornings," she added. "And I can only hope, that I might inspire someone else in that same way."