How Two L.A. Gang Members Ended Up Fighting For Assad in Syria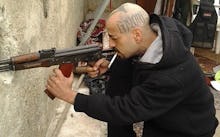 The news: Thousands of foreign-born fighters have flocked to Syria to join the bloody rebellion against President Bashar al-Assad. According to the Los Angeles Times, at least 50 hail from the United States. But until now, no Americans have been found fighting on the side of the Syrian government. Enter Creeper and Wino, two men with unique backstories who are introduced in the video below:
Wait, what? If their claims are to be believed, these men are gang members from the greater Los Angeles area, and they're fighting for Assad. Creeper claims to represent the Sun Valley set of Sureños 13, a loose collective of Latino street gangs mostly concentrated in L.A. and San Diego, Calif. Wino claims the L.A.-based Westside Armenian Power, a smaller criminal organization involved in "racketeering, extortion, kidnapping, drug-related offenses and white-collar fraud."
Image Credit: Facebook
The video depicts them giving shout-outs to various affiliates back home, including people named Capone-E, Crazy Loco from Pasadena and Mr. Criminal from Silver Lake. They flaunt their gang tattoos and fire automatic weapons at cadres of unseen "enemigas" in the desert.
According to the Washington Post, the video — courtesy of the pro-Israel Middle East Media Research Institute, which monitors regional media — is "impossible to independently verify." But Wino's (née Nerses Kilajyan) Facebook page contains various photos, some of which appear to have been taken in Aleppo.
Image Credit: Facebook
But why? It's unclear if these men would've joined the battle for ideological reasons, but it seems unlikely. "The gangs that they allegedly belong to very much have organized crime kinds of activities," said Ronald Huff, a gang expert at the University of California-Irvine. "For them to go and fight on [Assad's] side suggests that either there is some kind of connection through religious affiliation or that they are perhaps mercenaries."
NBC suggests Wino has "possible affiliations with Hezbollah fighters," but these are unverified. The FBI's Joint Terrorism Task Force is currently looking into whether the men pose a threat to "Americans or U.S. interests."
If their claims are true, Creeper and Wino have joined at least 11,000 other foreigners — many of whom come from Europe, Australia and Asia — who've poured into Syria via North Africa and the Middle East to join the fighting. This adds another dark chapter to an increasingly global civil war that's already claimed the lives of over 140,000 people, including 7,000 children, in the past three years.