Lupita Nyong'o Shatters Stereotypes About Real Beauty in the Acceptance Speech You Didn't See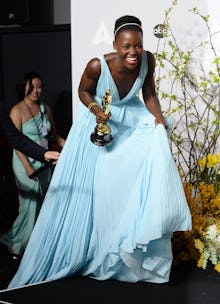 Lupita Nyong'o may have just become America's favorite sweetheart (move over Jennifer Lawrence!) after giving a heartfelt acceptance speech for her Best Supporting Actress award at Sunday's Academy Awards. But this wasn't the young woman's first time bringing an audience to its feet.
Apparently, making us weep uncontrollably is just one of the actress' multiple talents. 
Only a couple of days prior to the Oscars, Nyong'o took home the Essence magazine Black Woman in Hollywood Breakthrough Award to far less pomp and circumstance. In front of a much smaller audience at the Beverly Hills Hotel, a nervous Nyong'o a spoke about a controversial topic rarely discussed in Hollywood.
"I want to take this opportunity to talk about beauty, black beauty, dark beauty," she told the audience after apologizing that her speech was unrehearsed. After reading a letter from a young fan who confessed to hating her dark skin until she saw Nyong'o on screen, the actress opened up about her own struggle with self-acceptance.
"I remember a time when I too felt unbeautiful. I put on the TV and only saw pale skin, I got teased and taunted about my night-shaded skin," Nyong'o said. "And my one prayer to God, the miracle worker, was that I would wake up lighter-skinned," she said. "I tried to negotiate with God, I told him I would stop stealing sugar cubes at night if he gave me what I wanted, I would listen to my mother's every word and never lose my school sweater again if he just made me a little lighter. But I guess God was unimpressed with my bargaining chips because He never listened."
Nyong went on to explain that after adolescence, she realized, "What is fundamentally beautiful is compassion for yourself and for those around you." With the help of her mother, she finally learned to love her dark skin and be comfortable with her body.
The actress concluded with the wish that other girls might be able to find their own paths to self-love.
"And so I hope that my presence on your screens and in the magazines may lead you, young girl, on a similar journey," the star said. "That you will feel the validation of your external beauty but also get to the deeper business of being beautiful inside, that there is no shade in that beauty," she told her captivated audience.
Judging from Sunday's reaction to her win (and dress!), the Kenyan actress is already shattering the stereotypes that she once felt limited by.
What did you think about Lupita Nyong's speech? Let me know on Twitter and Facebook.