5 Years Later Here's What the Real 'Slumdog Millionaire' Kids Are Doing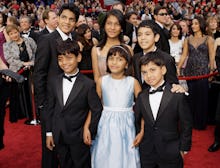 Five years ago, Slumdog Millionaire swept the award season with the inspiring tale of a young boy making his way out of the slums of Mumbai. The film won eight Oscars, four Golden Globes and seven BAFTAs that year, but the international media paid particular attention to its young ensemble cast of industry unknowns.
Overnight, the nine actors were thrust into the limelight, despite having never acted before (lead actor Dev Patel was the only exception with his stint on the British drama Skins). They played the main characters — Jamal, Salim and Latika — at three different points in their lives and ended up winning the Screen Actors Guild award for Outstanding Performance by a Cast, sharing the honor with Bollywood superstars Anil Kapoor and Irrfan Khan.
Image Credit: Fox Searchlight
But just as the spotlight faded, disturbing allegations arose about the young actors' situations. While the two main leads — Patel and Freida Pinto, who played "Older Jamal" and "Older Latika" — went on to pursue successful film careers, some of the younger kids returned to India to dire circumstances. Azharuddin Mohammed Ismail ("Youngest Salim") became homeless after government officials tore down his family's illegal makeshift shelter; Rubina Ali ("Youngest Latika") also lost her home when the shantytown where she lived burned down in 2011.
Director Danny Boyle and his producers then had to face accusations that they exploited the young actors and that the British filmmakers reaped the rewards while the children were left to fend for themselves. Due to the backlash, Ismail and Ali, who were initially each paid £1,700 and £500 for their work (around $2,833 and $833), became beneficiaries of a trust, which would be paid in full after they finished their education. In the meantime, they were enrolled in school and given a monthly stipend of £20 ($33) for their schooling.
Image Credit: Fox Searchlight
Since then, their lives have improved greatly. For the five-year anniversary of the film's Oscar victory, Hollywood Reporter organized a reunion for the six younger actors. All of them are in school — while some want to continue acting, others are looking at other professional careers. Watch the video below:
This is what the Slumdog kids have been up to since the film:
Image Credit: Hollywood Reporter
Tanay Chheda ("Middle Jamal"), 17, is now a student at the prestigious Choate Rosemary Hall boarding school in Connecticut. He is getting ready to go to college.
Image Credit: Hollywood Reporter
Tanvi Lonkar ("Middle Latika"), 18, is studying towards a Ph.D. in psychology at Wilson College and hopes to pursue it as a profession. She also has two South Indian films in the works.
Image Credit: Hollywood Reporter
Ashutosh Gajiwala ("Middle Salim"), 20, is studying mass media at St. Xavier's, one of the most prestigious colleges in India. He is interested in pursuing law but is also looking at films.
Image Credit: Hollywood Reporter
Ayush Khedekar ("Youngest Jamal"), 13, unfortunately could not make it to the reunion because he was studying for his midterm exams.
Image Credit: Hollywood Reporter
Rubina Ali ("Youngest Latika"), 15, attends school thanks to the film's trust. She and her family now live in a new home.
Image Credit: Hollywood Reporter
Azharuddin Ismail ("Youngest Salim"), 15, also attends school. "I used to live in a slum. Now I live in a nice apartment and go to a good school," he said. He lives in Santa Cruz, Mumbai.