8 Cutting-Edge Musicians Who Are Reinventing Live Concerts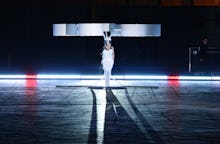 With all the excitement over music piracy and music streaming services, we briefly forgot one simple truth: Music is, and always was, a live art.
It may come as a surprise that in the midst of the recording industry's doomsday status, live music is having a major renaissance. According to an analysis by Pollstar, the concert industry hit a record high of $5.1 billion in North America in 2013. Live Nation reports that ticket sales grew by 6 million units in that time, boosting industry revenues up by 17%. The top 50 worldwide tours (No. 1 Bon Jovi, No. 2 Beyonce, No. 3 Miley Cyrus) generated a combined revenue of $3.83 billion, up 27.6% from 2012. 
In short, live music may be the commercial saving grace of the ailing industry. But it's doing something new for performers, too.
If anyone has seen the revival in live music, it's Rachel Black, director of NYC's Greenwich House Music School (GHMS) and veteran NYC concert producer. She's produced over 350 concerts and she's discovered the truth about modern music: Live music is where artists go to innovate. "Purchasing music — no matter the form — can never compare to watching a musician create a sound and tell a story in real time," she said.
And the best artists have always proved their merit on a live stage. A good artist, in Black's eyes, can play a wonderful show anywhere: "The testament of a talented artist is their ability to overcome a difficult space, like the 'found spaces' part of festivals like SXSW." Or the infamous leaky warehouse where the Alabama Shakes completely transfixed an audience that, by all accounts, could have been miserable.
Here are some out-of-the-box thinkers and doers who are pushing performance bounds and proving that live music — in its purest and weirdest forms — is the future of the industry.
1. The XX
The XX has planned 25 shows for 40 people each at an NYC armony this spring in an effort to redefine the concert experience. They've got a pretty trippy reason for it, too: They will challenge the ideas surrounding traditional concerts by "creating a site-specific environment to delve into uncharted levels of depth in their sound where dark and light collide as the memory of the outside world falls away."
Sounds about right.
2. Jessie Ware
Jessie Ware performed in the back of a cab because great live music needs no stage. Other artists have similarly participated in Black Cab Sessions including Bon Iver, Feist and Mumford and Sons. 
3. Paul McCartney
McCartney performed "guerrilla concerts" around NYC this fall to spread the word about his new album. He shocked fans in places ranging from Times Square to a high school auditorium in Queens.
We do not, however, want to see any kinds of statistics on how many of the students knew who he was.
4. Michael Daves
Black's concert series at the GHMS this spring is a celebration of the much-acclaimed NYC musical establishment the Café au Go Go, a 1960s performance venue where of iconic musical acts like Jimi Hendrix, Joni Mitchell and the Grateful Dead launched their careers.
Performers like Don Flemons and Michael Daves will basically time travel by working to foster what Black calls the "social and ultimately transcendent experience of a great live performance" at the West Village venue.
5. OK Go
In their an interactive concert, fans participated in the music creation process via a custom-designed phone app. 
This, of course, is only the tip of the iceberg for the band. They're pretty much the kings of viral video.
6. Edward Sharpe and the Magnetic Zeros
This soulful band staged pop-up concerts in a Mexico City park because ... well, just because great live music requires nothing more than talent and love. Especially if you're as cosmic as Edward Sharpe.
7. Lady Gaga
Everybody already knew that Lady Gaga could do anything. Black has a special reason to keep the faith after seeing Gaga perform "Bad Romance" on a zip line.
8. Steve Angelo
You can't listen to EDM in your room. You just can't. And these crazed students dancing their butts off to Steve Angello in Central Park are a good sign of what EDM does that a lot of live music just can't: create an almost cultish energy around music.