These Game Changers Are Fueling St. Louis' Start-Up Revival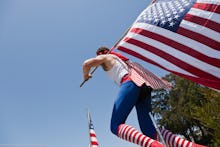 When people think about St. Louis, some may think of poverty and impoverished neighborhoods. That may be the case in certain areas, but there is also a fast-growing tech scene.
According to a recent report, the city's technology jobs have increased by 25% in the past year, and tech salaries are up by 13%.
"The collective energy and momentum surrounding innovation and entrepreneurship in St. Louis right now is pretty palpable," said Chad Stiening, who's early-stage company Kypha has raised more than $3 million since launching in 2011. "We're seeing the human, intellectual, physical and financial capital all reaching critical mass and it's creating an ecosystem that's essential to be competitive in the marketplace," he said.
But while the low cost of living and access to funding is enticing, such qualities don't exactly differentiate St. Louis from many other tech hubs scattered between the coasts. So what makes St. Louis so special? 
Cliff Holekamp, a lecturer in entrepreneurship at Washington University's Olin School of Business, thinks it's the culture of the city itself. "We've hit a tipping point where what were once individual happenings have become a really vibrant community ... it goes from a community to a culture," he told PolicyMic.
"And that's what happened here. I met a girl the other day who said she is moving from Austin to St. Louis for the entprerenship scene because she wants to be part of something that has momentum, and she was drawn to the enthusiasm of being in the growth stage. In fact, St. Louis itself is sort of like a tech startup in these respects." 
These pioneering St. Louisans all believe the city is the best place for their startups. Here's why. 
1. Tara Pham, founder of CTY and Brain Drain
Pham, a San Fransisco native, is the founder of CTY, a civic tech company that collects and visualizes urban data in real time. The company's Pulse collects analytics about physical spaces, including pedestrian traffic, air quality and noise pollution. "We want to cheaply equip governments with real-time quantitative data, which will enable them to be much more responsive," Pham said.
She is also the co-founder of Brain Drain, a multi-disciplinary collective she launched with fellow Washington University alumni that executes projects for the civic good of the city of St. Louis, and hosts events like Sloup, a monthly pop-up soup dinner that crowdfunds micro-grants for arts and community investors.
The impetus behind Brain Drain is to demonstrate that St. Louis is a good place for young people. "You have a lot of flexibility to pursue passion projects and take risks here," Pham said, "And if you fail it's not the end of you."
2. Steve Marciniak, co-founder of TrackBill
Marciniak moved to St. Louis to develop the company thanks in part to a grant and three-month mentorship program from St. Louis growth accelerator Capital Innovators. He decided to stay after the program ended.
TrackBill's software can track every move that a bill makes in the the state and federal legislatures during its path towards becoming a law.
The service now counts law firms, lobbyists, trade associations, municipal governments and nonprofits among its clients. "We want our stakeholders to be able to spend less time tracking and more time impacting the outcome of legislation," Marciniak said. 
Although a $50,000 grant from Capital Innovators brought Marciniak and his business partner to St. Louis, the rich array of funding sources and the highly networked startup community has kept them here. After their three month Capital Innovators program wrapped, the duo scored a grant from Arch Grants and a round of funding from Cultivation Capital.
But Marciniak stressed that these backers are good for a lot more than money. "Lots of these programs offer mentoring in things like accounting and marketing that we had little familiarity with," he said. "They helped us connect with people we wouldn't have been able to connect with elsewhere." 
3. Tom Pernikoff, co-founder of TuneSpeak
When Tom Pernikoff isn't rocking it out on-stage with his own band the Perkinoff Brothers, he's helping other musicians make it.
The entrepreneur launched TuneSpeak in 2013 with 15 local bands. One year later, he is working with the likes of John Mayer, Kings of Leon and My Morning Jacket. The platform allows musicians to engage and grow their fan base by rewarding their most avid fans with goodies such as backstage passes to autographed guitars.
"There are so many people who are rallying around tech in the Midwest," said Pernikoff, who moved back to his hometown of St. Louis after four years at a startup in Silicon Valley. "New investors are coming to the table every day, and it seems that an increasing number of people are actually moving to St. Louis to start companies,"he said.
"The startup scene is growing every year, and that gives entrepreneurs the confidence to say that they can start something and find money and developers." 
4. Leigh and Jimmy Farah, co-founders, Rustic Grain
There are tons of old barns in the midwest, but what ends up happening to them?
Husband and wife team Leigh and Jimmy Farah takes the salvaged lumber of century-old barns and turns them into handcrafted furniture. The couple recently moved their Rustic Grain operation from a 900-square foot garage to a 10,000 square-foot space. When customers buy a piece of Rustic Grain's furniture, it comes with a story. Each item comes with a brass tag with the location and year the barn was built and a seal number that can be plugged into the website to learn more about the barn's history.
The Farahs are native east coasters, and Jimmy moved from New York, where he worked at a tech startup. They told PolicyMic they've found the midwest the ideal spot for their company.
"The environment in New York is more cutthroat — people want you to fail, and want you to burn," Jimmy said. "In St. Louis, the culture and environment is full of honest people, who are politely honest. It's a big enough town for there to be enough connections and partners, but it's small enough to be haughty. Producing a physical item also requires more in startup costs. And those costs are very different here than they would be in New York." 
5. De Nichols, founder of Catalysts by Design
Catalysts by Design is a nonprofit design firm that uses its profits to fund two amazing community-based sub-ventures Design Serves and United Story.
Design Serves teaches youth in disadvantaged neighborhoods to identify challenges in their communities and design the solutions. In one instance, participants designed trash cans that made tossing garbage a game for a littered neighborhood. The garbage was later turned into fertilizer and sold.
United Story brings members of a community together around a socially-divisive issue and invites participation from all perspectives. "We are about stories sparking action," Nichols said. "It's not enough to listen to other's stories. We want to respond and to be responsive."
The collaborative, crowd-sourced nature of Nichols' ventures is also what appeals to her about St. Louis, and why she's been so prolific in turning her ideas into reality. "Whenever I reach out to anyone, they are always willing to give connections to other leaders or for funding, and that's something that you can't access as easily in other cities and networks," she said. "This city is big enough to feel like a city, but small enough to get things done. It has that small town feeling because everyone knows everyone — if you want to make an idea happen, you can easily get connected to someone who can help make it happen."
6. Katherine Grelle, director of investor relations at Cultivation Capital
Cultivation Capital, a St. Louis-based early stage venture capital firm, has funded many of the entrepreneurs on this list. The firm was established in 2012, and aims to bridge the gap between post-seed and pre-Series A funding in the city.
Grelle, the firm's first director of investor relations, told PolicyMic that before Cultivation Capital, St. Louis startups often found they had to leave town when they reached the post-seed stage because of the lack of funding. "The ability to fill that gap has kept millennial entrepreneurs in the community," she said. 
With her bird's-eye view of the many companies springing up in the city, Grelle marveled at their collaborative nature. "The CEO of LockerDome can call up the CEO of another company and say, 'we passed on hiring someone, but he would be perfect for you.' These companies really want to help each other, and facilitate that connection and networking which is really unique to St. Louis. The founders know each other and are following each other and taking an active stance on making sure they are all succeeding. They all realize that with how deeply intertwined they are with each other, they have a stake in each other's success."
7. Jon Wheatley, co-founder of NeedWant
Wheatley is an example of an entrepreneur who was fed up with high prices in Silicon Valley and moved to St. Louis.
But not everyone understands why he left the Golden Gate Bridge for the Gateway Arch. "Every person I have mentioned this to has had the initial reaction that I am crazy," Wheatley blogged. "But almost universally, once I have explained the reasoning behind it, everyone kind of gets it."
The serial entrepreneur is working on the startup Need/Want, which has a simple premise: to develop products that solve common problems without the need for any other unifying thread. Thus far, the company has produced SmartBedding, which "solves the age-old problem of bunching sheets and making your bed" and ultra-thin iPhone cases that don't detract from Apple's design. Next up is a paper notebook that syncs to the cloud for those who can't choose between paper and digital.
Wheatley's move has also inspired other entrepreneurs. His friend Roberto Hoyos has since moved his own company Throwboy Pillows from Seattle to St. Louis. "Coming from San Fransisco, where there's a huge tech scene and you're a very small cog in this huge machine, it's the opposite here," he told PolicyMic. There's an opportunity to be part of a small but growing community of people. It's really nice to be part of something on the ground floor." 
8. Gabe Lozano, co-founder of LockerDome
Lozano comes from a family of entrepreneurs. His dad Bob Lozano is also a tech entrepreneur based in St. Louis who co-founded cloud solutions and software development firm Appistry and online credit card payment company PaylinX Corp.
The younger Lozano's own company LockerDome, a social media network for athletes built around shared interests rather than prior acquaintance, has millions of monthly active users and the entrepreneur is wholeheartedly believes the potential for startups to grow in the city.
"Two years ago, there was almost no startup scene here," he told PolicyMic. Now there's a lot of activity, and it's feeding off each other. Everyone used to say 'Is there enough money here?' But if you have serious traction, people are going to fund you. As companies in the St. Louis scene start to grow up, there is money here to support them." 
9. Jonathan Goldford, partner at WiredImpact
Goldford's original plan was to join the PeaceCorps after college, but during a one-year hiatus before he was set to be deployed, he built a web company and never looked back.
Today, WiredImpact's mission is to create and maintain websites for nonprofits while also offering web design and development along with services like SEO optimization. "Most nonprofits now are interested in using the web more effectively, but aren't sure how," Goldford told PolicyMic.
He said his experience with the nonprofit sector gives him "a better idea of what nonprofits deal with on a regular basis, from fund-raising to volunteer management," which gives WiredImpact an edge in assessing how best to help.
Looking for ways to help is part of the St. Louis ethos, Goldford said, and one of the reasons growing a company here is so attractive. "The technology-entrepreneurship community is so open," he said. "Our Meetup groups are really strong. I go to morning coffee every quarter where I get together with other entrepreneurs to talk about solutions to problems we're all facing. It's such a small and tight knit community."