Iggy Azalea Totally Captures '90s Nostalgia in This Amazing Hip-Hop Ode to 'Clueless'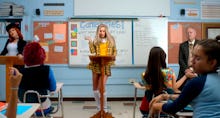 Iggy Azalea was just 5 years old when Clueless hit theaters in 1995, but that hasn't stopped the Australian rapper/model from turning the music video for her song "Fancy" into an epic homage to the classic high school comedy.
"Fancy" is a spot-on recreation of some of the most iconic scenes from the film, and features Azalea as Cher and British songstress Charli XCX as (an admittedly less frumpy) Tai. It's completely random and entirely wonderful. Watch:
The video is a major nostalgia trip for fans of the film (i.e. any girl born between 1980-1995), and the level of detail here is seriously impressive. There are so many references that it's hard to keep track. Like Cher's digital closet (something I still very much would like to own):
And her debate against Amber (also: so much tartan):
And the fluffly pink pen with which she tries (unsuccessfully) to seduce Christian ("Nice stems."):
Plus those wispy tendrils falling from her half-up, half-down hairdo:
And Dionne's terrifying highway driving:
There's some teenage plastic surgery for good measure:
And many very '90s hats. Like this hat:
And this hat:
And this hat:
And, of course, this, the greatest of hats:
Images via YouTube/Paramount Pictures.