This Ukrainian Pop Star Became a Hero — And Michelle Obama Awarded Her for Her Courage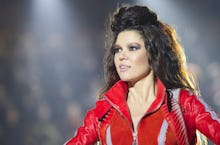 Ukrainian singer Ruslana Lyzhychko is way more than your average pop star. Deemed "the soul of Ukraine's revolution," Ruslana, as her fans call her, was one of 10 women to be awarded the Secretary of State's Women of Courage award by First Lady Michelle Obama and Deputy Secretary of State Heather Higginbottom on Tuesday.
The singer was recognized alongside human rights activists and women's health advocates for her "exceptional courage and leadership in advocating for peace, justice, human rights, gender equality and women's empowerment, often at great personal risk."
The award is well-deserved. Ruslana became a leading figure in the Ukraine's EuroMaidan movement in November, using her high profile to rally citizens to peacefully demonstrate for political change. And her involvement spans more than just an appearance or tweet here and there; in the face of police attacks, death threats and the bone-rattling cold, she has continuously joined protesters in Kiev's Independence Square, singing the Ukrainian national anthem as well as her own music — sometimes performing for as long as eight hours straight!
Ruslana's bravery is truly remarkable. As the Office of Global Women's Issues writes (emphasis ours), "When police attacked peaceful student demonstrators, Ms. Lyzhychko personally evacuated students and stood guard outside while alerting the media and calling on the international community to intervene. Then, on a freezing night in December, as security forces with truncheons and shields descended on the Maidan, Ruslana remained onstage to marshal activists to stand their ground and resist non-violently."
Born in western Lviv, Ukraine's second largest city and a region where anti-Russian and anti-Yanukovych sentiment runs strong, Ruslana first became famous 10 years ago for winning 2004's Eurovision competition — Europe's version of American Idol — and a campy launching pad for careers like those of ABBA and Celine Dion. She has gone on to become the first artist from a post-Soviet country to go platinum (her Dyki Tantsi is the best-selling Ukrainian album ever).
Ruslana's goal is to "charge Maidan with freedom-loving energy." "If necessary," she said, "I will sing every night in Maidan, even until the next presidential election in 2015."
And Ruslana's humility is as astounding as her courage: "I think of myself as a volunteer ... showing people that we need to be here because there is no other way," she told Reuters in December. "Russia is our past, Europe must be our future."
What do you think of Ruslana? Let me know on Twitter.