Chipotle Never Said It Would Stop Serving Guacamole if Climate Change Got Worse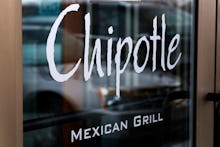 Mexican fast-food chain Chipotle made waves this week when it released its annual report to the Securities and Exchange Commission (SEC), and now people are up in arms. Most of the report is a routine summary of the company's risks and gains, but one thing has caught the Internet's attention: the idea of discontinuing Chipotle's guacamole supply.
In the report, Chipotle discussed how "increasing weather volatility or other long-term changes in global weather patterns, including any changes associated with global climate change," are affecting the price and availability of the company's crops.
Just to press the point, it then went on to drop this bomb: "In the event of cost increases with respect to one or more of our raw ingredients we may choose to temporarily suspend serving menu items, such as guacamole or one or more of our salsas, rather than paying the increased cost for the ingredients."
After ThinkProgress broke the news, the threat to Chipotle's beloved staple went off like a shot around the world, and social media had a quick meltdown:
Even President Barack Obama's Organizing for Action group jumped on the bandwagon, warning that we need to "act on climate" to stop Chipotle's devastating move:
This would all be serious cause for concern, except for one important, glaring fact: Chipotle never actually said it would discontinue its guac.
While climate change was listed as one of Chipotle's risk factors, it was simply a part of a long list that the company is required to disclose to the SEC. Other items in the list include "labor costs, food-borne illnesses, and competition from other businesses," yet people don't seem to be up in arms about them.
"This is strictly routine 'risk factor' language as part of the annual financial disclosure," the company clarified in an email to Business Insider.
The company also added that similar issues increased avocado prices in 2011, but that it "never stopped serving guacamole ... the sky is not falling."
Guacamole is a huge part of the Chipotle franchise, which uses 97,000 pounds of avocados a day. But 95 percent% of U.S. avocado production is from southern California, which has been battling a three-year drought. Chipotle's daily dependence on huge quantities of avocado — as well as its commitment to use locally-sourced ingredients — may make it hard for the company to keep its guacamole at the same price. But for now, we can all take a collective breath of relief. The gauc is here to stay.