This Anchor on Russia's News Channel Just Quit on Air in Protest Over Ukraine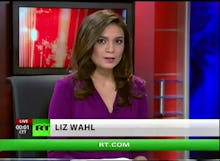 In this stunning video, American Russia Today anchor Liz Wahl quit on air Wednesday over the Russian occupation of the Ukraine's Crimean peninsula. In her last on-air broadcast, Wahl claimed she could no longer be "part of a network that whitewashes the actions of Putin. I'm proud to be an American and believe in disseminating the truth, and that is why, after this newscast, I am resigning."
Wahl told The Daily Beast that "When I came on board from the beginning I knew what I was getting into, but I think I was more cautious and tried to stay as objective as I could." But apparently the blatant propaganda and cheerleading over Russian intrusion into the Ukraine's sovereign soil just got to be too much. As The Daily Beast pointed out, RT has had some winners lately, such as "Self-defense forces ranks swell in anticipation of Crimea showdown with radicals" and "Tea, sandwiches, music, photos with self-defense forces mark peaceful Sunday in Simferopol." RT's coverage has gone well beyond correcting bias and into outright propaganda:
The New Republic has noted that it's awfully convenient how RT backs the Kremlin's position every single time (until someone goes off-script), and repeatedly ignores protests in Moscow and other major cities against Putin's government. 
Just two days ago, another RT presenter, Abby Martin, went off-script and denounced the Kremlin's actions in the Ukraine during her show Breaking the Set.
"Just because I work here, for RT, doesn't mean I don't have editorial independence, and I can't stress enough how strongly I am against any military intervention in sovereign nations' affairs. What Russia did is wrong," Martin said.
"I will not sit here and apologize or defend military aggression."
Martin's editors then said they were sending her to Crimea to report firsthand, an offer she later declined via Twitter.
Russia Today is a state-funded news organization operating for the Kremlin that markets itself as a edgy, alternative news source to western liberals. But what these recent breakdowns (as well as the subsequent meltdown by RT executives) have exposed, as The New Republic observes, is less a "well-oiled propaganda machine" than a "defensive, shapeshifting retort to the Western media" — an organization with no clear ideology and poor editorial control, less concerned with projecting the Kremlin's viewpoint than with acting as an endless contrarian to Western media.
UPDATE: Here is RT's scathing rebuttal to Wahl: