U.S. Military Service Members Show Ellen How to Take a Selfie With Real Power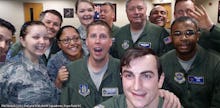 Ellen DeGeneres' Oscars selfie with some of Hollywood's biggest stars has gone viral, collecting nearly 3.3 million retweets and counting. And with that success comes some contenders for the throne of most-retweeted selfie of all time. So far, no one's come anywhere close, but there's a couple of worthy opponents.
The Raleigh-Durham triangle in North Carolina is a major center for the U.S. military, so WTKK/WPTI radio show host KC O'Dea had an idea: "If one of the bases in the area recreates Ellen's picture, I'll post it on Twitter and try and get it retweeted more times than Ellen's." And very quickly, that noble proclamation gave us this masterpiece from some servicemen and women over at Pope Airfield:
The dude in the back's Kevin Spacey is perfect. Seriously. Just squint and compare the two:
So far, they're only at around 2,700 retweets. That puts them considerably behind Texas man Terry Shipman, who managed to get an astonishing 129,000+ retweets out of a selfie with him and his dogs:
Shipman is 65, runs an engineering business and barely uses Twitter. Before posting the selfie, he'd only posted three times, twice to his son and once in a botched photo upload (that still has yet to be removed or fixed). He told Mashable, "I doubt that I will be doing a whole lot of tweeting. I get lots of e-mails, text messages relating to business and I don't think I need to go tweeting all the time."
Meanwhile, The Simpsons also weighed in: