Beautiful Animated Movies That Prove Cartoons Aren't Just for Kids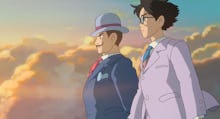 Frozen won the Academy Award for Best Animated Film, but a lot of people feel that internationally-celebrated Japanese filmmaker Hayao Miyazaki's film The Wind Rises — the last film he intends to make — was unfairly snubbed. But it was to be expected. Everybody loved Frozen because it was a kids film that adults could enjoy, too.
The Wind Rises isn't a kid's film at all. It's an animated film for adults. And Americans still don't take animated films seriously.
Though adults flocked to see Frozen in theaters, and though everybody loves Pixar, the assumption is that these films are for kids and any appeal to adults is a bonus. But that isn't so in the rest of the world. These six foreign, animated films beautifully demonstrate that there is nothing childish about animation:
1. 'Grave of the Fireflies'
This 1988 Japanese film was made by the same studio that produced Miyazaki's films. Written and directed by Isao Takahata, the film follows orphaned siblings, Seita and Setsuko, struggling to survive in 1945 Kobe, Japan.
There is no happy ending (spoiler alert!) as Japan suffers amid bombings, food shortages and general chaos, both brother and sister die of starvation. It has been heralded as both one of the best animated movies and one of the most depressing movies ever made. As the late Roger Ebert wrote, Grave of the Fireflies is "an emotional experience so powerful that it forces a rethinking of animation."
2. 'The Illusionist'
This French-British film from 2010 follows the failing career of illusionist Tatischeff and his surprising friendship with Alice, a young woman who believes Tati's magic is real. It is an illusion he fights to maintain until it's unsustainable.
This film could teach kids what it means to have your dreams die as your career and identity become obsolete in a changing world, so they might want to sit this one out.
3. 'Princess Mononoke'
This 1997 Japanese epic by Miyazaki is over two hours long and tells a very complex story of battles between animal gods and humans. This is probably Miyazaki's most powerful film about environmental destruction (a theme throughout his work).
Prince Ashitaka finds himself straddling both sides of the conflict between the residents of Irontown and the animal gods of the forest. He falls in love with San, or Princess Mononoke, a girl literally raised by wolves who seeks revenge on humankind for their devastation of the forest. Containing some of Miyazaki's most beautiful animation, this film illuminates the darker, destructive side of human nature — as well as the difficulties of falling in love with a girl who acts like a wolf.
4. 'Persepolis'
Based on the graphic novel of the same name, this autobiographical French film tells the story of the author, Marjane Satrapi, growing up in Iran during the revolution.
Marjane comes of age dealing with the injustices of a repressive regime and the horrors of the Iran-Iraq war. Her rebellions against the regime lead her parents to send her to Austria for safety, but there she struggles with her identity, racism and love.
Graphic violent and sexual themes earned the movie a PG-13 rating, and the complex political and historical nature of the film make it difficult for young kids to follow. Although nominated for Best Animated Feature in 2007, it lost the Oscar to Ratatouille, Pixar's documentary about massive health code violations in French restaurants.
5. 'Waltz With Bashir'
An animated documentary by Ari Folman, this 2008 Israeli film is a former soldier's attempt to recall his service during the 1982 Lebanon War.
Through interviewing his fellow soldiers and friends, as well as journalists who reported on the war at the time, he uncovers his feelings of guilt and responsibility for a massacre carried out by a Lebanese Christian militia at the Sabra and Shatila refugee camp. The entire film is haunting and beautiful.
6. 'The Secret of Kells'
This 2009 Academy Award-nominated Irish-Belgian-French film beautifully combines Celtic folklore and Irish history to tell the story of one of Ireland's national treasures, an illuminated manuscript of the New Testament called The Book of Kells. Imagine telling a child that that's what they're going to see.
As protagonist Brendan befriends Aisling, a forest spirit, and defies his uncle to help master illuminator Aidan in his work on what is to become the Book of Kells, the Vikings approach from afar. The terrifying climax of the film is the destruction of the Abbey of Kells by Viking invaders — depicted as inhuman monsters — and a massacre of the inhabitants within.