These 9 Creative Oscar Selfie Recreations Are Spot-On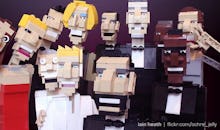 The most famous selfie of all time, taken at last Sunday's Oscars, broke Twitter's retweeting record — and the site itself — in a matter of minutes.
Naturally, creative minds worldwide have since tried to recapture the feel of the star-studded selfie in a number of completely unexpected ways. It's safe to say they've done a pretty good job. 
1. The Simpsons Selfie
It's the most well-known of the selfie parodies (and probably the most relevant The Simpsons has been in years). Probably because it tells the "story you didn't see" — the fact that Homer Simpson was being shut out of the selfie.
2. The Lego Selfie, Pt. 1
This awesome selfie interpretation from the mind of artist Iain Heath is made entirely of Legos. Heath reportedly started right after the show, working for 12 hours to capture the big moment. 
3. The Lego Selfie, pt. 2
Not to be outdone, the staff of a Legoland in Britain recreated the scene using Lego people pieces. It looks like the cameo list for the inevitable Lego Movie 2.
These are both incredible, but also a little creepy.
4. The Harry Potter Selfie
This next interpretation is actually a great re-casting of the Harry Potter movies: Meryl Streep as Harry, Jennifer Lawrence as Hermione, Bradley Cooper as Hagrid ... it's visionary.
5. The Grumpy Cat Selfie
Or, "when memes collide." 
6. The Snoopy Selfie
Alright, this is pretty cute. The Peanuts gang does a good selfie, but why isn't Charlie Brown being shoved out?
7. The Terry Selfie
The Oscars selfie also inspired ordinary Americans to take similar selfies with their non–famous friends (the effect doesn't quite translate). But Terry from Texas got a staggering amount of retweets with this one. Nice work, Terry.
8. The Pizza Selfie
Also sort of looks like the work of a stalker.
9. The Shining Selfie
You've always been here, Ellen.