Why This 'Game of Thrones' Rap Mixtape Is Exactly Right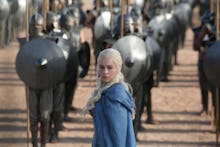 Big Boi's love for Game of Thrones runs deep. The rapper has been sounding off about it in interviews since May 2013: "I love the writing and the storytelling in itself. It's not predictable and I love the imagery and the fantasy of the whole thing. HBO be killin' 'em with those series, fo sho!" 
It was only a matter of time before he expressed his love in the proper way: by penning a dope rap about his favorite character, Daenerys Targaryen.
Big Boi's "Mother of Dragons" is the first track off of a new mixtape called Catch the Throne, curated by HBO to promote the show's upcoming fourth season. The network has tapped nine other rappers and Latin artists to fill out the tape including Common, Wale, Bodega Bamz and Daddy Yankee.
Khaleesi approves.
Hip-hop may seem an odd genre to pair with the fantasy series, especially considering the show's epic, symphonic soundtrack. Heavy metal might have been the more obvious choice to accompany the show's obsession with swords, fell monsters and armed combat. But hip-hop has more similarities with the medieval world of Game of Thrones than it first appears.
For one thing, both worlds are obsessed with monarchy (look no further than Jay-Z and Kanye's Watch the Throne, Jay-Z's recent song "Crown," R. Kelly's King & Queen tour and Kendrick Lamar's infamous "King of New York" line).
Image Credit: The Source
The themes of wealth, power, love and war (both in the streets and beyond the Wall) drive the narratives of both the hustler and the bannerman. Dragons and Cadillacs fulfill the same purpose: They allow kings and queens to look sexy as hell while riding into battle.
Stay vigilant, for the full mixtape drops Friday. Season 4 of Game of Thones premieres April 6.