This Thrilling Video Proves Directing the Oscars Is Just as Exciting as Winning One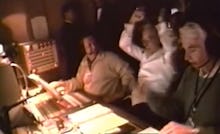 The news: The Oscar acceptance speech has become an iconic staple of contemporary culture. And why wouldn't it? Awards ceremonies are the pinnacle of many industry careers, validating years of hard work and sacrifice.
But few people realize that the passion shown in these powerful moments onstage is matched — and sometimes exceeded — by the people working behind the scenes. To illustrate this fact, filmmakers Doron Tsabari and Ori Inbar released a documentary titled Pesel Ha'Zahav (1999), which provides a behind the scenes looks at the 1996 Academy Awards.
This incredibly gripping sequence intersperses Cuba Gooding, Jr.'s memorable Best Supporting Actor acceptance speech with what happened simultaneously in the show director's booth, captained by Louis J. Horvitz.
Take a look:
Wow. Gooding's speech would have been one of the most galvanizing in Oscar history on its own, but combined with Horvitz barking orders, snapping fingers and screaming ecstatically with each thrilling progression, it takes on a life of its own. That a job like directing a live awards ceremony — barely ever recognized outside the industry — could result in such an ecstatically rousing few minutes is something most people would never expect.
And after watching this video, it's something they'll never forget either.