This Viral Photo Is Saving a School in Brooklyn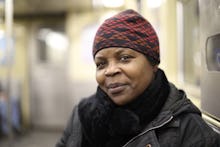 It's easy to forget amidst the never-ending barrage of memes and trolls, but sometimes the Internet is seriously the best. And sometimes, all it takes is a single viral photo to restore — or at least encourage — your faith in humanity.
You've probably heard of Humans of New York, the alternately joyous and heartbreaking photography series by Brandon Stanton that attempts to document all of New York City's inhabitants. This week, the beloved project — which has over 3.5 million Facebook fans — proved its ability to affect actual social change with this photo:
Stanton approached Annette Renaud on the C train last weekend and asked to take her picture. As is his practice, Stanton also engaged Renaud in conversation. Renaud was upset, she told him, because her child's high school (the Secondary School for Journalism in Brooklyn, at which she is a member of the PTA) has been destroying the seniors' chances at a much-needed Advanced Regent's scholarship.
"I'm currently advocating on behalf of my child, and seventeen other children whose parents don't speak English," Renaud said. "[T]he fine print of that scholarship says the children need three full years of a foreign language. And the principal at the school FIRED the Spanish teacher. She is not hiring another foreign language teacher for an entire year, effectively disqualifying all these kids from that scholarship they need."
Renaud seemed at a loss as to what to do, but won't give up. "Trying to get something fixed in these schools is like praying to some false God ... But I tell [the parents]: 'God won't fix it! We've got to fix it!'"
Stanton posted Renaud's photo and words on HONY's Facebook page, where it amassed over 150,000 likes and 16,000 shares in a matter of days. There are thousands of comments beneath the image, ranging from enthusiastic encouragement for all of Renaud's work to offers to teach courses at the high school for free.
Image Credit: Beyond My Ken
And this isn't just click-happy slacktivism, either; two change.org petitions were organized on behalf of the students (one of which has over 1,300 signatures), and the school has been flooded with concerned calls and emails. Support has streamed in from across the country, and the students' plight even made it into the New York Times.
Students and parents had been protesting the school since before the HONY picture, but the photo has helped elevate their cause to a level that would have been impossible without some social media intervention. The issue is not yet entirely resolved, but it seems closer now than it was before.
More broadly, the photo has revealed the concern of strangers across the Internet for someone they don't know. And that concern reminds us, to quote what is probably one of the most "viral" poems of all time, that "With all its sham, drudgery and broken dreams, it is still a beautiful world."