David Cameron Tweeted the Dumbest Pictures Ever, and the Internet Ripped Him For It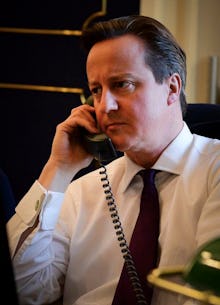 While David Cameron isn't exactly the trendiest world leader, he got his moment in the spotlight today ... but for all the wrong reasons.
On Wednesday, the U.K. prime minister tweeted out this picture of himself intensely listening to a phone call. But what really got the Internet riled up was the fact that he used the picture to underscore the seriousness of the conflict in Ukraine:
A world leader tweeting such an unfortunate and awkward pic just to highlight how involved he is in an international crisis ... well, that's something you can't make up.
The photo was ripe for parody, and Twitter's favorite personalities were on call to deliver. First up was comedian Rob Delaney, who tweeted this in response:
Next was Sir Patrick Stewart, who joined in on the important call:
Soon enough, #davecalls became a trending term, and the tag was filled with the best of Internet's parodies:
Of course, it wouldn't be a true British parody if Doctor Who wasn't involved:
Let's just hope that Cameron, Delaney and Stewart's conference call found a peaceful solution for Ukraine.