A New Study Reveals Which Red State Could Soon Be a Democratic Stronghold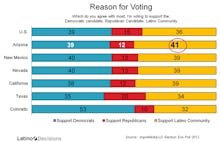 According to a new poll released on Wednesday by research firm Latino Decision and pro-immigration reform group America's Voice, Arizona won't be a "red" state for much longer.
In fact, the pace by which it turns purple might just depend on how fast Democrats can get the state's Latino population out to the polls.
"The future of Arizona politics will be driven by Latino population growth which we have making Arizona a majority-minority state in fifteen years," says University of New Mexico political science professor Gabriel Sanchez says. "Although over 40% of Latino voters in Arizona indicated they voted for Bush in 2004 and McCain in 2008, Arizona's Hispanic voters have all but abandoned the Republican Party more recently as a result of the harsh stance on immigration policy."
What's more, young Latinos coming of age in the state, not immigration, is fueling this growth. 
The GOP is still dominant across the state, controlling both houses of the state legislature, two U.S. senators (McCain and Flake), Gov. Jan Brewer and winning the vote for GOP presidential nominee Mitt Romney by 54% in 2012. But Latinos just aren't voting for Republicans. A surprising 79% supported Barack Obama in 2012, and 83% supported Sen. Flake's Democratic opponent Richard Carmona the same year.
The only reason the state hasn't swung further to the left is low turnout. At least 60% of eligible Latinos failed to turn out in 2012, and 989,000 eligible Latinos either registered and neglected to vote or didn't register at all. But even that low number is up 37% from 2008, suggesting that it's only a matter of time before Democrats capitalize on the growing opportunity. 
Likely as a result of the GOP's continued hardline stance on immigration, as well as a swing to the right on other issues nationwide, the Latino vote for Republicans has collapsed since 2008.
According to Latino Decisions, 65% of Arizona Latino voters know an undocumented immigrant, and as such, it's very likely these voters wouldn't like attempts to slow down the naturalization process or deport those people.
Arizona's Latino voters would, however, be more likely than the rest of the country to vote GOP if the party lent its support to comprehensive immigration reform. Unfortunately for Republicans, their members in the House hasn't exactly been progressive on the issue.
Arizona is still lagging behind other states like Colorado on mobilization efforts. Citizens for a Better Arizona co-founder Randy Parraz says that what's really needed to close the gap is money.
Just 12% of Arizona Latinos vote with the intention of getting Republicans into office as their primary objective. In fact, 41% view their fellow Latinos as who they wish to support during election season. Unless the GOP can convince voters that their priorities are Latinos' priorities, electoral slippage seems inevitable.