Crimea's Persecuted Religious Minorities Don't Want It to Become Part of Russia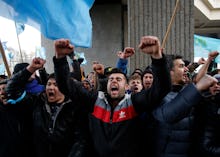 While Crimean citizens and the world await a referendum from parliament on March 16 that will determine whether the semi-autonomous region should become a part of Russia, two religious minorities are fighting back.
Both the Jewish and the Sunni Muslim Tatar populations in Crimea have clashed with pro-Russian supporters during the crisis, showing their strong support for the Ukrainian government and their home country.
Throughout the uproar in Ukraine and subsequent invasion by the Russians, the Jewish population in Crimea has been subject to several hate crimes, including an incident where vandals spray-painted swastikas and "death to Jews" on the only Reform synagogue in Crimea's capital, Simferopol. While there was no way of knowing if the vandalism was done by pro-Russian supporters or local neo-Nazis, one of Ukraine's chief rabbis, Jacob Dov Bleich, accused Russia of staging "anti-Semitic provocations" to discredit the Ukrainian government and create a need for a Russian takeover.
"There were many differences of opinion throughout the revolution, but today all that is gone," Bleich said during a conference in the Manhattan office of the United Jewish Communities of Eastern Europe. "We're faced by an outside threat called Russia. It's brought everyone together."
The anti-Russian sentiment is felt by most Jewish Ukrainians. In an interview with the Daily Beast, Joseph Zissels, the president of the Ukrainian Jewish community known as the Vaad, said the estimated 17,000 Jews in Crimea are more worried about Russian operatives and Yanukovych loyalists than the nationalists.
Zissels also said that since the Jews in the area are not vocally choosing any sides in the conflict, he was more worried for the Muslim Tartar community.
There are 300,000 Crimean Tatars in Crimea, more than 13% of the local population. They are pro-Ukrainian and identify with Crimea as their home country. Nearly half a million Tatars were deported to Central Asia in 1944 by Stalin, a large majority dying on the journey. They are highly organized, with their own parliament, the Qurultay.
More than 10,000 ethnic Tatars in support of the interim government clashed with police in Simferopol at an anti-Russia rally on Feb. 26. Fistfights broke out with pro-Russia allies. Crimean Tatars say they are suspicious of Moscow's intentions and are scared the Kremlin will threaten their existence in Ukraine.
Both the Jews and the Crimean Tatars are pro-Ukraine supporters because both are isolated minorities who are not liked by many. Ethnic Russians in Crimea have clashed with Tatars for years over land, the desecration of graves and monuments, and fights over market trading rights with local mafia groups. Ukraine has never been a friendly place for Jews. During World War II parts of the Ukrainian population collaborated with the Nazis in exterminating the Jews in occupied Ukraine, and under the Soviet reign Jews faced anti-Semitic state-sponsored campaigns.
The two groups, though vastly different, are both connected through fear of yet another threat to their existence in Ukraine. Both minorities have faced persecution and extermination before, and the Crimean Tatar population has made it a point to ensure that won't happen again. For now, it seems the Jewish population is more driven by fear than patriotism.