Stunning Maps Show How the Louisiana Coast Has Disappeared Since 1990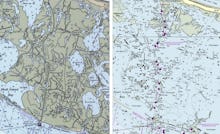 For most people in the continental United States, climate change is an abstraction, something they think won't for many years, if at all. But for the residents of Louisiana, it's very real — and it's happening right now.
From Stephanie Garlock over at Grist come these haunting maps of the rapidly eroding Louisana coastline, which is disappearing so quickly that mapmakers can't stay on top of what's land, what's marsh and what's ocean. A one-two punch of rising water and better engineering ("which brought effective channeling and stronger levees") has seen the erasure of vast stretches of coastline.
Below, the area south of Buras, Louisiana, from 1990 to today, where NOAA has officially declared that English Bay, Bay Jacquin and Scofield Bay no longer exist:
Adams Bay and Bastian Bay have both been torn beyond recognition:
Bob Taylors Pond has become just another part of the rapidly-expanding Zinzin Bay:
"You're kind of seeing a culmination of decades of changes," says NOAA Office of Coast Survey chief geographer Meredith Westington. "And it looks very dramatic." For many smaller bodies of water being combined by encroaching water, it "doesn't make sense to leave some island name in the chart where there's no island there anymore."
"You're cruising along and the water will be three, four feet deep, and the GPS will say you're on land," says David Muth, state director of the National Wildlife Federation's Mississippi River Delta Restoration Project. "The official maps are really trying to catch up, but land loss is so fast in certain parts of the coast that no one can keep up. You can have a piece of land out there that retreats 20, 30, 40 feet a year."
Policymakers say it's no longer possible to save all of coastal Louisiana. Instead, the focus has been on identifying which parts of the coastline can be repaired and which will fade into the water no matter what is done.
(h/t Grist)