11 Female Film Pioneers Who Paved the Road to Hollywood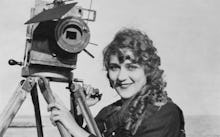 San Diego State University's Center for the Study of Women in Television and Film gave us some disturbing news after the New Year: Gender diversity in media has actually been getting worse.
The report concluded that the number of women represented in 2013 was lower than it had been in 1998, meaning "there's been no discernible progress in increasing the numbers of women working in film over the past 16 years."
Ouch.
It's no secret that Hollywood is a boys' club — only about 9% of the top 250 grossing films of 2012 were directed by women — but it hasn't always been that way. In fact, many of the highest-earning screenwriters in the early era of Hollywood were women, and women on screen were taking on diverse, complex roles.
It isn't a stretch to say that having more women writing the scripts and calling the shots behind the scenes helped make films of Hollywood's Golden Age more interesting. So in honor of International Women's Day and Women's History Month, here are 11 early film pioneers who proved ladies can produce, edit, act, direct, write and be the CEOs of their own companies. 
1. Frances Marion
Image Credit: Wikimedia Commons 
A journalist, artist, director, two-time Academy Award winning screenwriter and eventually a teacher at the University of Southern California, Frances Marion was a legend of the silent film era. She often wrote for her good friend and actress Mary Pickford, but don't think Marion was penning her generation's chick-flicks; her winning scripts, like The Big House and The Champ, tell the stories of men as they live through violence, poverty, prison, glory, addiction and failure. 
2. Mary Pickford
Image Credit: Wikimedia Commons 
She may have been the pretty face of the silent film era, but Mary Pickford was also talented and business savvy, and worked side-by-side with giants of the silver screen (ever heard of Charlie Chaplin?). Pickford started acting as a child shortly after the turn of the century, and eventually moved into the production side of the industry after "talkies" took off and silent film died out. Pickford also co-founded United Artists Film Studio, now a subsidiary of MGM, with her friend Charlie Chaplin, Douglas Fairbanks and D.W. Griffith.
3. Anita Loos
Image Credit: Tumblr
Anita Loos was a prolific writer, credited extensively throughout her Hollywood career on dozens upon dozens of films. You've probably seen the remake of her most famous jazz-era book and eventual screenplay, Gentleman Prefer Blonds, most oft-remembered for Marilyn Monroe's iconic 1953 performance. But before Loos ever published the novel that would cement her name in film history, she wrote The New York Hat for Mary Pickford and DW Griffith and a series of adventure films for Douglas Fairbanks. 
4. Marion E. Wong
There isn't much information available about Marion E. Wong outside of academic circles, but she was a pioneer for Asian-American cinema. Wong founded an all-Chinese production company, Mandarin Film Company in Oakland, California before 1920.
Mandarin Film Company released at least one film, The Curse of the Quon Gwon: When the Far East Mingles with the West, featuring an all Chinese cast. In addition to being a radical American-born-Chinese business woman, Wong was also an actress and a director. 
5. Dorothy Arzner
Image Credit: Wikimedia Commons
If there is one name you should know from this era, it's that of director and film editor Dorothy Arzner. California-born, gay and feminist, Arzner was a fixture in Hollywood, working in theater, film and radio. Unlike many, Arzner was able to find success in both silent and "talkie" films, working with Paramount for years before freelancing for various companies including United Artists, MGM, Columbia and RKO film companies. She directed several films including The Wild Party with Clara Bow and Dance, Girl, Dance with Maureen O'Hara and Lucille Ball. 
6. Alice Guy-Blaché
Image Credit: Wikimedia Commons
Alice Guy-Blaché was a French-born director, writer, and business-woman. She's credited on over 1,000 films, as well as for advancing the development of proper narrative structure in film and the inclusion on non-white actors. Most notably, Guy-Blaché helped establish French film giant, Gaumont, with her husband, as well as Solax. Her films, if you're lucky enough to catch them, are gorgeous, colorful and playful. 
7. June Mathis
Image Credit: Wikimedia Commons
A writer, film editor and Hollywood executive, June Mathis used to be one of the most powerful women in the industry. She is believed to have been one of the highest paid executives in Hollywood while working for Metro. Mathis is most often remembered for her role in discovering Italian actor Rudolph Valentino.
While her life was unexpectedly cut shortby a heart attack at age 38, her career flourished while she was alive; she wrote the screenplay for both The Four Horsemen of the Apocalypse and Blood and Sand. 
8. Alla Nazimova
Image Credit: Wikimedia Commons
Alla Nazimova was truly a "modern woman" of the 1920s. A film and theater actress, Nazimova delved into various projects that challenged the standards of early Hollywood. She taking part in films that were edgy and controversial, albeit not necessarily successful. She worked on an Art Deco-science-fiction-futuristic piece, Camille, opposite Rudolph Valentino, and starred in and produced one of the first art films, Salome, an adaption of the Oscar Wilde play of the same name. 
9. Marion Fairfax
Image Credit: Wikimedia Commons
Nowadays there are fewer women in horror and science fiction genres than in drama and comedy. But 1925's The Lost World was scripted by Marion Fairfax, who based the film on Sir Arthur Conan Doyle's 1912 novel. Ms. Fairfax was a pioneer in the use of stop-motion animation and paving the road for new genres in film. Steven Spielberg might just owe her a big "thank you"; she was making dino-films decades before he was even born. 
10. Natacha Rambova
Image Credit: IMDb
An artist by nature, Natacha Rambova designed sets and costumes, co-wrote scripts and acted. Rambova worked closely with the equally elegant and bizarre Alla Nazimova on Aphrodite, Camille, A Doll's House and Salome. Her work was described as "French expressionist," combining aesthetics of Art Deco, Asia and Egypt, together "producing a signature look." 
11. Tsuru Aoki
Image Credit: Wikimedia Commons
Tsuro Aoki may be a controversial choice, but she is an important figure in film history. Her brief stardom made steps towards further racial inclusion in cinema at a time when anti-Asian sentiments weren't a rarity.
Tsuru Aoki worked closely with her husband, fellow Japanese actor Sessue Hayakawa, and often was cast into roles which played into Orientalism and stereotypes of demure Asian women. But as Sara Ross of the Women Film Pioneers Project writes, "Aoki also displays the rebellious spunk found in many of the modern female paradigms of the period."