These Viral Two Sentence Horror Stories Are Creepier Than Any Scary Movie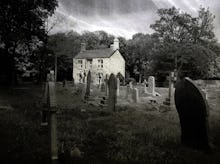 Seven months ago, a Reddit user asked a simple question: "What is the best horror story you can come up with in two sentences?" The response was deafening and blood curdling, and the conversation is just starting to go viral.
The terror contained in these stories is different than the gross-out horror most blockbusters go for. These stories showcase a more subtle, creepier kind of fear, the kind we only feel when something is just teetering on the threshold of threatening. The incredible inventiveness of these lines also vindicate Twitter-style writing, which many critics have claimed is simply too restrictive to allow users to express complex thoughts.
The following stories are sure to get your skin crawling during your afternoon lull this Friday. Thank God for fluorescent lighting.
1.
A girl heard her mom yell her name from downstairs, so she got up and started to head down. As she got to the stairs, her mom pulled her into her room and said, "I heard that, too."
Image Credit: Flickr
2.
My daughter won't stop crying and screaming in the middle of the night. I visit her grave and ask her to stop, but it doesn't help.
Image Credit: Flickr
3.
"I can't sleep," she whispered, crawling into bed with me. I woke up cold, clutching the dress she was buried in.
Image Credit: Imgur
4.
I begin tucking him into bed and he tells me, "Daddy, check for monsters under my bed." I look underneath for his amusement and see him, another him, under the bed, staring back at me quivering and whispering, "Daddy, there's somebody on my bed."
Image Credit: Imgur
5.
After working a hard day, I came home to see my girlfriend cradling our child. I didn't know which was more frightening, seeing my dead girlfriend and stillborn child, or knowing that someone broke into my apartment to place them there.
Image Credit: Flickr
6.
I can't move, breathe, speak or hear and it's so dark all the time. If I knew it would be this lonely, I would have been cremated instead.
Image Credit: Flickr
7.
The last thing I saw was my alarm clock flashing 12:07 before she pushed her long rotting nails through my chest, her other hand muffling my screams. I sat bolt upright, relieved it was only a dream, but as I saw my alarm clock read 12:06, I heard my closet door creak open.
Image Credit: DeviantArt
8.
I woke up to hear knocking on glass. At first, I thought it was the window until I heard it come from the mirror again.
Image Credit: Imgur
9.
My sister says that mommy killed her. Mommy says that I don't have a sister.
Image Credit: Imgur