Read CrossFit's Ridiculous Letter to a Trans Athlete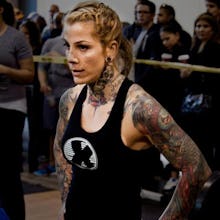 Chloie Jönsson is a ridiculously fit personal trainer and CrossFit athlete who happens to also be a trans woman. Jönsson is alleging that CrossFit Games leadership sent her an outrageously transphobic letter prohibiting her from competing in the women's division.
Registration for the organization's annual competition began in January, but when Jönsson attempted to register she was told she could only compete in the men's category. The 5'4" Jönsson, who says she had gender affirmation surgery in 2006, is a woman according to the State of California. Jönsson is therefore suing CrossFit for $2.5 million alleging discrimination, intentional infliction of emotional distress and unfair competition, according to CNN.
In a letter obtained by TMZ Sports, reportedly sent from CrossFit to Jönsson, the fitness organization made clear their institutional belief that gender is immutable.
"We have simply ruled that based upon [Chloie] being born as a male, she will need to compete in the Men's Division," the letter reads. "The fundamental, ineluctable fact is that a male competitor who has a sex reassignment procedure still has a genetic makeup that confers a physical and physiological advantage over women. ... Our decision has nothing to do with 'ignorance' or being bigots — it has to do with a very real understanding of the human genome, of fundamental biology, that you are either intentionally ignoring or missed in high school."
In a press release, Jönsson hammered back at CrossFit, saying her lawsuit was an effort to reveal the company's "discriminatory policies."
"If I am going to be forced to out myself, I want it to be for the good for all transgendered people and athletes," she said.
The perception that trans athletes might have an unfair advantage has been widely discredited by research. Athletic governing bodies, including the Olympics, have begun to pass guidelines for allowing trans athletes to compete as their preferred gender if they have undergone gender reassignment surgery, have legal recognition of their gender and have had two years of hormone therapy.