824 Missing Women in Canada All Have One Shocking Thing in Common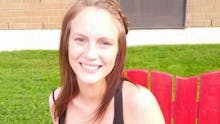 The news: This is Loretta Saunders.
Image Credit: Al Jazeera
On Feb. 26, she was found dead alongside a highway in the eastern Canadian province of New Brunswick. She was 26 years old and had been missing for two weeks.
Since discovering her body, Canadian authorities have arrested her two roommates and charged them with murder. But for many, her death is emblematic of a much larger problem: the disproportionately large number of missing and murdered indigenous women plaguing Canada over the past 50 years.
An inconvenient truth: For her University of Ottawa doctoral thesis, Maryanne Pearce spent seven years cross-referencing public records, newspaper articles, websites and police files. She documented 3,329 cases of missing or murdered Canadian women of varying ethnic backgrounds and compiled them in an extensive database, which the Winnipeg Free Press reproduced here. While the vast majority of incidents occurred between 1990 and 2013, some were as early as the 1950s.
Pearce's work highlights a troubling pattern: 824 of the women she documented – or 24.8% of the total – were of Aboriginal Canadian descent. And since indigenous women account for just 2% of Canada's total population, this number has sparked a considerable public outcry. Most recently, Saunders' death has been met with candlelight vigils and an outpouring of social media support — accompanied by a reinvigorated call for the Canadian government to address the issue. A Change.org petition started by Saunders' cousin has collected over 64,000 signatures.
Image Credit: Al Jazeera
(NOTE: #MMIW stands for "missing or murdered indigenous women")
Yet the call has yielded few tangible results. British Columbia's government established the Missing Women Commission of Inquiry in 2010, three years after serial killer Robert Pickton was sentenced to life in prison for murdering six women. The commission assembled a "substantial report" full of recommendations on how to more effectively prevent and investigate crimes involving at-risk female populations. According to the Vancouver Sun, these have yet to be implemented. "I would like to see more action and less inquiry," added Pearce.
Dark days: The Canadian government's history of dealing with its so-called "Indian problem" is the stuff of nightmares. A Vice report covering a Truth and Reconciliation hearing in Fort Albany, Ontario documents the horrors indigenous children endured at the nation's so-called "residential schools," which were established to assimilate them into white Canadian culture. Aboriginal children were routinely humiliated, tortured and sexually abused by teachers and administrators — 3,000 died or were killed.
Indigenous Canadians continue to endure various assaults on their culture and autonomy. As recently as 2012, Prime Minister Stephen Harper's government proposed "termination" plans aimed at dismantling long-standing "First Nations" sovereignty treaties and assimilating Aboriginals "into the existing federal and provincial orders of [the] government of Canada."
Image Credit: Vice
Moving forward: The murders of Loretta Saunders and those hundreds more indigenous women fall into a long history of cultural and physical assault against Aboriginal Canadians. That their deaths and disappearances so disproportionately overwhelm their percentage of the population means something is very wrong. Some have argued that these women were involved in high-risk behavior, specifically the sex trade. But Pearce's study debunks this myth, stating this was true only 20% of the time.
An added dimension to Loretta Saunders' murder was her passion for the very topic that defines her death. According to her sister, she was set to graduate from Saint Mary's University in May with a degree in sociology and criminology. Her thesis focused on three Nova Scotia cases involving indigenous women who were murdered.
"Aboriginal people from across the country are mourning the loss of this bright young scholar," read a statement from the Coast Salish Territory/Vancouver B.C. First Nations leaders. "She was courageous enough to step outside the box with her plans to study this dark and disturbing topic." 
Let's hope the Canadian government acts to address these tragedies sooner rather than later.