Meet the New York Writer Finding the Best Places to Cry in the City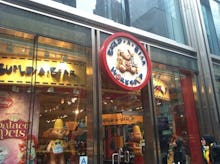 Sometime between Tuesday night and Wednesday morning, New York collectively identified the Bank of America on 48th & 5th as a pretty great place to cry. 
For anyone whose lived in the city, the NYC Crying Guide, a Tumblr penned by comedian Kerry O'Brien and devoted to cataloguing the best and worst places in the city to cry, will read like a statement of the obvious. People here are crying all the time. It probably seems callous to the rest of the country, but the city collectively and consistently chooses to let people sob unconsoled and unquestioned. That's where the NYC Crying Guide comes in. Undisturbed crying is actually one of the strangest kindnesses the city has to offer.
Image Credit: Kerry O'Brien
"I guess I got the idea because I went through a break-up a few months ago and I realized that I was crying way more than usual," said O'Brien in an interview with PolicyMic. "I made it as a joke just for my friends … I put it on Twitter on Tuesday night. And I only have like 400 followers, but by Wednesday morning I had all these tweets and emails and I was like 'What is going on?'"
A part-time comedy writer at the Upright Citizen's Brigade Theatre, she seems pretty amused by the blog's reception. The overwhelming reaction to the blog seems best characterized as a kind of half-laughing, half-crying recognition on behalf of New Yorkers everywhere. "Most of it is just everyone being like 'Oh, this is my life, finally.'" A few concerned New Yorkers have missed the joke and broken the cardinal rule of NYC crying by offering solace. But with any luck, O'Brien will be able to eradicate such ignorant behavior.
"I just love that people like it and they think all the crying that we do is as funny as I do," she laughed. Probably the funniest entry thus far is about her train, the dreaded 7. "No matter what time of day, every single person on the 7 train is in a deep sleep or stupor. Feel free to cry as audibly as you want on this train, no one will EVER look at you!! ... I cry on this subway at least once a day."
She doesn't sound like a daily crier, but the most recent public cry she witnessed was, indeed, a 30 minute-long subway ride on the 7 where the passenger didn't stop weeping at all. "I was hoping that she'd get to her stop, but, no, it was for 30 minutes and really sad." 
Image Credit: Kerry O'Brien
She doesn't necessarily think that New Yorkers cry more, though — just that it's hard to get to a private crying spot before your tears break. "We just don't have cars, I think that might be it. Or like space to cry. I feel like I used to cry a lot when I had a car … well, not a lot — but maybe if you live in places that aren't big cities you can cry alone in your car and no one will ever know. But if you're commuting home from work in New York and you had a bad day it's like — people are going to know."
In the summer of 1948, during one of the worst heat waves on record in New York, E. B. White, wrote his own crying guide of sorts — an essay called "Here is New York." He wrote, "On any person who desires such queer prizes, New York will bestow the gift of loneliness and the gift of privacy."
This week, in more or less the opposite of a heatwave, O'Brien posted about the Build-A-Bear Workshop on 46th & 5th: "Yesterday I was in the middle of an all day crying session, but I really really needed to get my niece a gift for her birthday … I went to Build-A-Bear in a full on cry mode and I am SO happy I did … all the employees completely ignored the fact that I was crying during the whole process. I cannot tell you how much I appreciated that … If you want to be treated like a real person despite your overflowing tears – go here immediately!!"
The guide is comforting, then. 66 years on, New York still holds the same strange humanity for those willing to see it and laugh.